Bucharest International Dance Film Festival 2018 - call for entries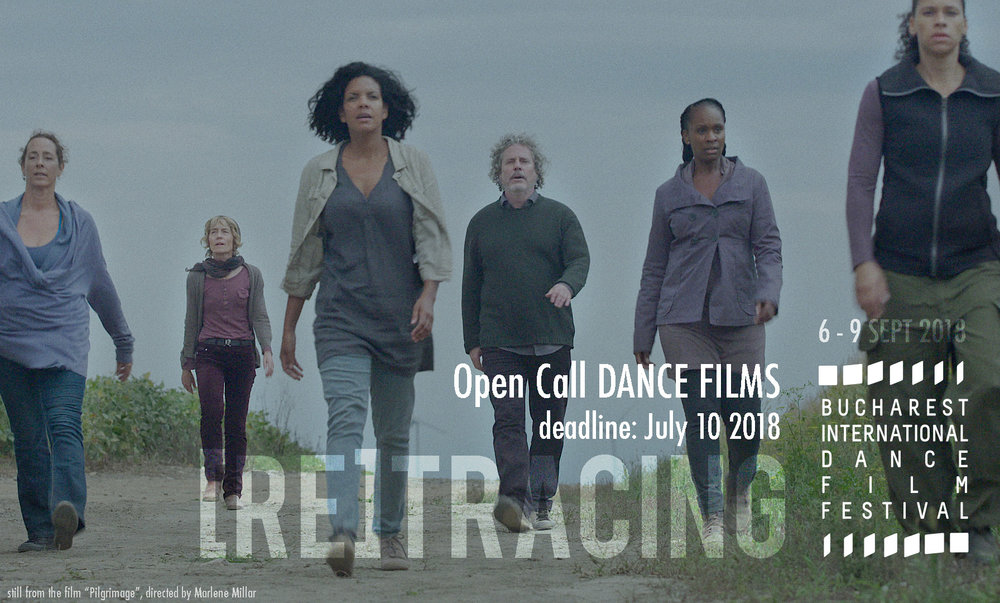 Bucharest International Dance Film Festival (6-9 September 2018) invites film directors, choreographers and other artists to submit their dance films to the fourth edition of BIDFF. The competition is open for fiction short dance films, documentaries and animations around the world, with a prize pool of 3000 euro. EXTENDED DEADLINE for film submissions: July 20.
BIDFF also has an open call for Colab (DEADLINE: 22 July) - a dance film development Lab dedicated to dance film creators from Romania, Moldavia, Ukraine, Serbia, Bulgaria and Hungary to apply for a brand new dance film lab, programmed for 3-9 September 2018, focused on the development of a dramaturgical structure and a clear artistic approach for future dance films. The lab will help dance filmmakers to further improve their initial idea in workshop sessions with choreographer and filmmaker Helena Jonsdottir (IS) and dance dramaturge and writer Guy Cools (BE) and focus groups coordinated by film producer Anamaria Antoci (RO) and film consultant Alex Traila (RO).
In order to strengthen the connections between the regional creative industries in dance and film, the lab will also be comprised of a series of speed networking and feedback sessions with international specialists in both domains and will conclude in a final pitching session presentation of the future films. Best pitch will be rewarded with a 700 EUR award, offered by the Romanian Cultural Institute.
COLAB info on http://www.bidff.ro/eng/#apel-inscrieri-bidff18
COLAB deadline: 22 July
This year's festival theme is [re] tracing, paying attention to the leftovers the time has carved through the lives of individuals and communities. Intimate personal stories, different means of archiving collective memories and speculations of a future life, can provide a context of [re] positioning of "the one" against "the many", willingly altering the so called general accepted truth. All of these manifestations and many others leave traces in the body, erasing and [re] writing meanings with the speed of light. [Re] living the reality can generate a new fictional "state of truth", one that can link together different temporalities and emotional levels, confusing the psychological and the chronological. Will the counter positioning of the one against the history of many really generate a creative conflict, one that can [re] frame repressed historical realities or [re] define uncertain present facts?
The competition is open for short dance films (fiction, documentaries and animations) around the world, with a prize pool of 3000 euro. BIDFF is looking for cutting edge dance films with a transparent and sometimes coded meaning, challenging the viewer to a playful exchange of information about social life, politics, extreme emotions, out of the ordinary places and oddly beautiful dance aesthetics. BIDFF encourages syncretism and dialogue between movement and the diverse forms of cinema from the most traditional to experimental.
Take a look at the guidelines for submission.
BIDFF can also screen off competition feature films and long documentaries.
The EXTENDED deadline for submissions is July 20 2018