Belgium | writing residency | applications invited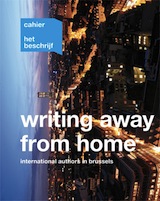 The Belgian literary organisation Het beschrijf invites foreign authors to undertake a residency in the heart of Brussels or in the Flemish countryside.
The writers
are offered the opportunity to work on a manuscript and to familiarise themselves with Flemish and Belgian culture and literature. They will either stay in
Villa Hellebosch
(Vollezele) or in
the flat belonging to Passa Porta
(Brussels). Some residents take part in literary events and work-sessions with fellow authors or translators.
The writer-in-residence receives the necessary logistical, material and financial backing to allow for an optimal stay: free lodging in the Passa Porta flat or in Villa Hellebosch, a weekly allowance, and the necessary tools such as a computer, internet connection and printer.
Conversely, the writer-in-residence must satisfy a number of criteria in order to be considered. Het beschrijf offers residencies to authors of various genres, from fiction to nonfiction and from youth to adult literature. Manuscripts of a scientific research nature are not eligible.
The author must have at least one literary publication, under his or her own name. It is desirable but not strictly necessary that the author has a publication in Dutch, French, English, German or Spanish.
The organisers expect of the authors that during their stay they commit themselves to writing a new manuscript, in which Passa Porta or Villa Hellebosch is mentioned in the publication.
Image:
This unique and illustrated book '
Writing Away from Home
' comprises a selection of twenty-one pieces written by foreign authors on the basis of their stay in Brussels or Flanders. They reveal a little of the authors' inner world and reflect on writing far from home, isolation, and the excitement of the new.
Does it matter where one writes? What does 'home' mean? The authors wrote about their stay, their view of Brussels and Belgium. This book assembles some of the finest pieces that have been written so far, arranged loosely into six themes:
Travellers, Scanning the City, Traces, Belgium, Microcosm
and
Subterfuges
.