b.creative challenge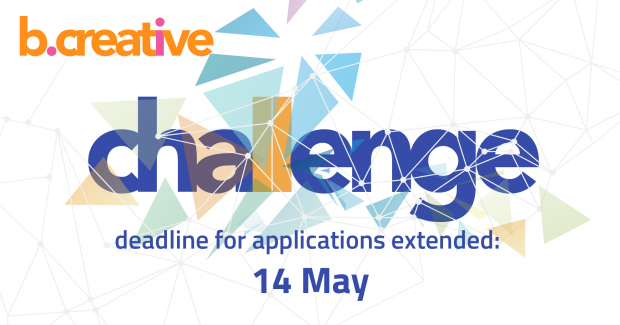 The b.creative challenge is an international competition designed to encourage young artists, cultural and creative entrepreneurs to work for social innovation.
The purpose of the b.creative challenge is to support artists, cultural and creative entrepreneurs and to encourage collaborations between them with a view to address different stringent social issues.
We are very keen on rewarding daring projects which employ creative and artistic skills to enable innovation in environmental protection, mental and physical well being, new food and sustainable agriculture, social cohesion, access to education and digital literacy, fight against poverty and others.
The winning application will be awarded one year of incubation (including accommodation, support for visa application, mentoring), media and marketing exposure through the Creative Tracks project or Creative Europe (the EC programme).
The team behind the winning application will receive 2 return tickets and accommodation to the next b.creative event which will take place in Shenzhen, China in December 2017, as well as professional advice and mentoring.
To participate in the challenge you must submit a written proposal and a short video describing your idea. The concept must be written in English and it must not exceed 10 pages. No appendixes are allowed.
The document must be sent by 14 MAY 2017 (NB extended deadline) to info@keanet.eu and it should include:


a description of the idea


the rationale behind the project


cross-sectorial aspects


target audiences


key activities


key resources and partners a financial plan and needs


a CV for each team member and a short description of the relationship between the applicants


The video must not be longer than 2 minutes and not exceed 100 Mb. It must be uploaded by 14 May 2017 on the 'Ideation Labs' section of the Creative Tracks platform.
Download the challenge rules and timeline here.