8th Arte Laguna Prize | new deadline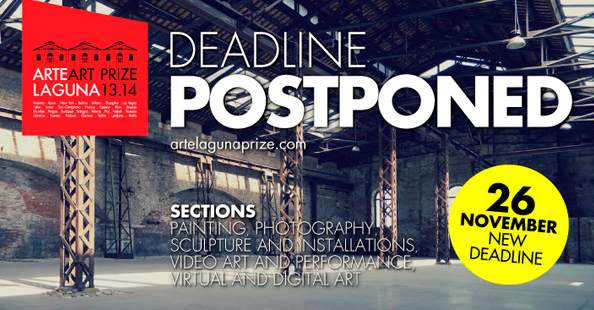 Arte Laguna Prize is an international competition aimed at promoting and enhancing Contemporary Art. The total endowment is € 180000. The exhibition of finalist artists will be held at Venice Arsenale.
The 8th Arte Laguna Prize has 5 competition sections: painting, sculpture and installation, photographic art, video art and performance, virtual and digital art, each offering a top prize of 7,000 Euros. A collective exhibition of the finalist artists will be held in the Venice Arsenale in March 2014. The videos of the 10 finalist artists will be also screened in Beijing in summer 2014.
Arte Laguna Prize has started 6 international collaborations with Partners offering prize-winning artists the opportunity to live a creative experience outside their artist studio in Italy, India, Slovenia and Germany.
Thanks to the collaboration with Telecom Italia Future Centre a new special prize, called Innovative Interactive Tour on Telecom Italia's Future Centre, is born. The prize is addressed not only to artists, but also to architects and designers with an innovative idea for the fruition of the architectural spaces of the former convent San Salvador in Venice, which is presently the headquarter of the Future Centre of Telecom Italia. The best idea will be awarded in March 2014 with 5000 euros for the realization of the project.
8th Arte Laguna Competition - Participation: open to all artists, with no age or nationality restrictions, free subject
New deadline: 26th November 2013
PLEASE NOTE: There is an APPLICATION FEE of 50 Euros for one work
INTERNATIONAL JURY
The selection of the submitted artworks will be made by an international jury made of directors of museums and foundations, art experts and independent curators, with the art direction of curator Igor Zanti.
 Enrico Bettinello (Italy, Director of Teatro Fondamenta Nuove)
Silvia Ferri de Lazara (Italy, Director of Fondazione March)
Victoria Lu (China, Creative Director of the Museum of Contemporary of Taiwan)
Domenico Quaranta (Italy, Critic and Curator)
Veerangana Kumari Solanki (India, Independent curator and Art writer)
Miguel Amado Tiago (Portugal, Curator of the Portuguese Pavilion at the 2013 Venice Biennale)
Sabrina Van Der Ley (Norway, Director of Nasjonalmuseet in Oslo)
Andrea Viliani (Italy, Director Museum MADRE in Naples)
Jonathan Watkins (Great Britain, Director Ikon Gallery)
Claudia Zanfi (Italy, Art Historian and Cultural Manager)