Prize for Young Francophone Entrepreneurs - call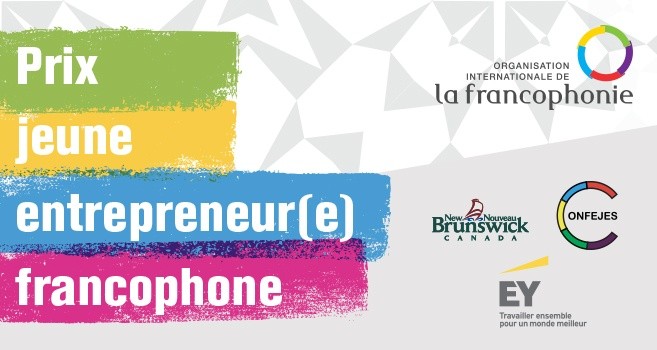 A call is open for submissions for the Prize for Young Francophone Entrepreneurs / Prix Jeune entrepreneur(e) francophone. This competition, now in its 3rd edition, is open to entrepreneurs in various categories, including Culture, who are aged 18-35, and coming from an eligible Francophone OIF member country. Cash prizes up to 10,000 Euros will be awarded with winners invited to awards ceremony in Monaco. All application information is in French.
The eligible countries include: France, Bulgaria, Belgium, Romania, Greece, Switzerland, Luxembourg, Cambodia, Lao PDR, Viet Nam.
Full list of OIF member countries here
Deadline for applications: 20 July 2019
La Stratégie jeunesse de la Francophonie (2015-2022), institue l'organisation d'un prix pour célébrer les mérites des jeunes qui apportent par leur génie entrepreneurial une contribution à la francophonie. L'Organisation internationale de la Francophonie (OIF) avec l'appui de ses partenaires, lance la 3eédition du Prix Jeune entrepreneur(e) francophone.
Son but est de mettre en avant les initiatives entrepreneuriales des jeunes, leur donner de la visibilité, les encourager à persévérer et les projeter comme « modèles » afin de promouvoir l'esprit entrepreneurial chez les jeunes. Le Gouvernement du Nouveau-Brunswick et la Conférence des ministres de la jeunesse et des sports de la Francophonie (CONFEJES) apportent leur partenariat à l'OIF et s'associent à l'organisation du Prix de 2019, avec la participation du cabinet EY (Ernst & Young).
Le présent appel à candidatures est un concours ouvert aux femmes et hommes âgés de 18 à 35 ans dirigeants d'une entreprise. Les candidates et candidats doivent être francophones, ressortissants d'un pays membre de l'OIF et être des entrepreneurs performants ayant déjà une affaire qui fonctionne avec des réalisations vérifiables.