2017 ICHCAP Associate Expert Program on intangible cultural heritage - call for applications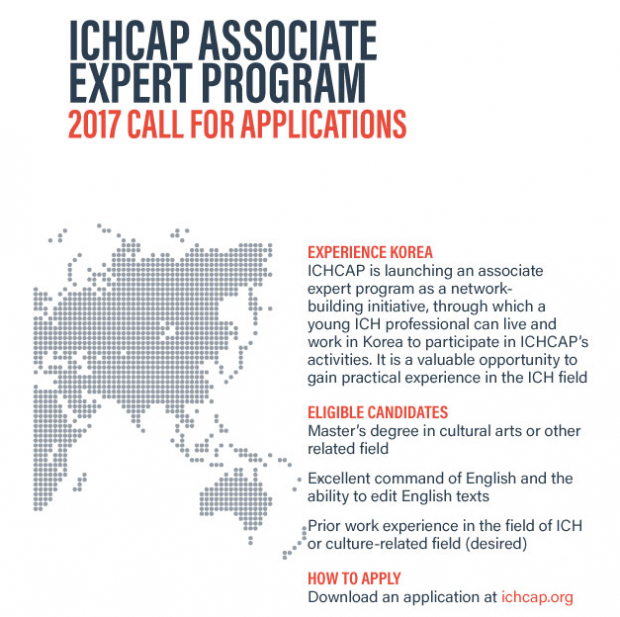 The ICHCAP - International Information and Networking Centre for Intangible Cultural Heritage Centre for Asia and the Pacific - in Jeonju, Korea has a call for applications from young professionals of the Asia-Pacific region for a 7-month residential training opportunity.
ICHCAP's Associate Expert Program (IAEP) will take place for seven months, from May to December 2017. During this residency program, a young professional in the field of intangible cultural heritage safeguarding will have an opportunity to gain valuable experience at an international organization. ICHCAP welcomes applications from promising young professionals of the Asia-Pacific region who have a master's degree in cultural arts or other related field and excellent oral and written English skills.
ICHCAP will invite one successful candidate to help develop his or her international expertise in the ICH field. The selected candidate will live and work in 
Jeonju
, where ICHCAP is located, and assist with publishing and distributing ICH publications and conducting research of 
Jeonju as a city of culture
.
The selected candidate will be offered financial support, including monthly living expenses, training fees, insurance coverage, and round-trip international flight tickets. The selection process includes document screening and interviewing to evaluate the applicants' capabilities, commitments, English proficiency, and work experience in the ICH field.
Applications will be accepted from 13 March to 20 April, and detailed information on the application and selection process is available at 
www.ichcap.org
.
Deadline: 20 April 2017