from - to
27 Feb 2014 - 03 Mar 2014
Yubari International Fantastic Film Festival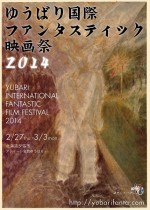 This weekend, the
Yubari International Fantastic Film Festival
, held on the snow-capped Japanese mountains of Hokkaidō, returns with a feast of
science fiction, fantasy and horror
film treats for cinema lovers. Beginning on 27 February, the festival lasts for four days, closing on Monday 03 March. The Yubari International Film Festival  is one of the first festivals held in a
resort-like environment
. Founded in 1990, it has its 24th edition this year. The aim not only to promote films but also to interact locals, filmmakers and cinephiles from around the world with delicious foods of Hokkaido, skiing or snowboarding. Furthermore, the festival is renowned for encouraging and
facilitating the careers
of new and upcoming directors.
Uncelebrated artists and an homage to filmmakers
who have made contributions to cinema is the major focus of the 2014 Yubari International Fantastic Film Festival. Mike Hostench, deputy director of Spain's
Sitges Film Festival
, and Thomas Nam, managing director of the
Network of Asian Fantastic Films
at South Korea's
Puchon International Fantastic Film Festival
, will serve as judges along with Japanese actors
Takumi Saito
and
Eihi Shiina
. Director
Kichitaro Negishi
will serve as the lead judge. For the
Inter Film/ Short Film Competition
category, which was established last year,
Puchon International Student Animation Festival
programmer Eugene Kim,
SPACE PIRATE CAPTAIN HORLOCK
anime director
Shinji Aramaki
and visual effects supervisor
Tsuyoshi Kazuno
will serve as judges. The festival's programming focus is on the weird and wonderful; accordingly, the festival is bookended by opening film
THE GREAT SHU RA RA BOOM
- a magnificent adventure story based upon Manabu Makime's best-selling novel - and powerful closing gala
SEVEN WEEKS
, where history and memoir are beautifully interwoven through the prism of the Suzuki family. The programme also features Oscar contenders, short films and Disney classics for the kids. The
festival website
, including full progamme information, is located
here
.