Vienna:first Sino-Austrian cultural joint venture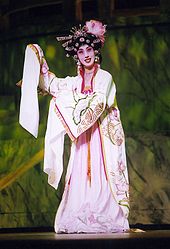 [caption id="attachment_6893" align="alignright" width="170" caption="China performing arts"]
[/caption]
China Heaven Creation International Performing Arts Co Ltd, Vienna Holding and The Vienna City Hall signed off on a new cultural joint venture in Vienna on 20
th
October 2010. The company will focus primarily on joint development, planning and implementation of various cultural activities, particularly drama, music, acrobatics, stage performances and other performances, as well as related education and training activities. The company is expected to market cultural products in both China and Europe through market operation.
China Heaven chief executive officer (CEO) Cao Xiaoning, Vienna Holding CEO Peter Hanke and The Vienna City Hall CEO Gehard Feltl signed the agreements. The three said they hoped to promote cultural communication between China and Austria and bilateral cooperation in the fields of culture, artistic creation and performances through the new platform. The first Sino-Austrian cultural joint venture is called Two Heavens Creation Vienna & Beijing. Vienna Holding and Viennese Municipal Hall own 25 percent of the company each while the remaining 50 percent is owned by China Heaven.
Hanke told Xinhua the joint venture would "introduce
Chinese
products to Vienna as well as the willingness to bring Vienna's fine works to China and Beijing, whether music or works of other art fields". China and Austria will use the joint venture as a platform to develop, plan and carry out various cultural activities jointly. In addition, through market operation of drama, music, acrobatics, theater and other performances as well as related cultural and educational training activities, China's excellent dramas will be introduced to European stages after being adapted and packaged.
Meanwhile, Austria and other European countries will be able to introduce their performing products to China through this platform, creating the opportunity for audiences of the both countries to understand and enjoy each other's culture and arts. Cao said the foundation of the Sino-Austrian joint venture was making a new attempt to "recreate" Chinese cultural products, particularly performing products, and to push them into European performance markets through cooperation with Vienna's largest performing companies.
"The recreation process is a reproduction process and international expression of Chinese art, which is a deeply meaningful exploration," he said. He also said the cultural joint venture would first introduce the Chinese opera, "Le Legend of Kung Fu", which was successful in the US, to Austria in next autumn.
"The difference is to change the English dialogue into German and do some necessary changes additionally so that it can become a European edition. The introduction of a European director for the opera will make it more European so that Chinese culture can be able to communicate with the world, to strike a sympathetic resonance and open to the world finally," he said. Chinese ambassador to Austria Shi Mingde also attended the signing ceremony.