from - to
25 Apr 2014 - 03 May 2014
Udine Far East Film Festival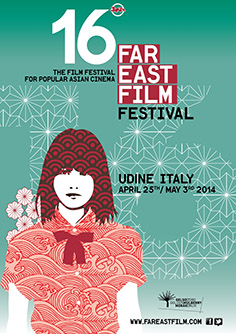 The 16th edition of Udine Far East Film Festival FEFF opens in Italy 25 April - 3 May and is described as the largest showcase of popular Asian cinema. The film selections for FEFF 2014 come from China, Indonesia, Japan, Malaysia, Philippines, Singapore, Korea, Taiwan, Thailand and Vietnam. View the
film screening programme
and
read more
about the event.
Ties That Bind
The Workshop for Asian and European producers organized during the festival days, is divided in two parts: the first part takes place in Udine during FEFF, the second part in Busan during BIFF. The workshop was created to establish links between European and Asian film producers and facilitate the coproduction between these two areas.
Retrospective sections
Every year, Far East Film focuses on a different historical aspect of East Asian film production, by presenting a retrospective programme planned and arranged by one or more experts in the corresponding field. To celebrate these annual retrospectives, C.E.C. publishes a monographic book that aims to make up for the lack of information available in Europe and Italy, on the rich history of Far Eastern film production.
Aim of the Festival
- To encourage and develop the understanding and appreciation of East Asian popular filmmaking, amongst European and Italian audiences. -  To contribute to the commercial distribution of Asian films across European and Italian markets. - To study and research the historical attributes of Asian filmmaking through retrospectives organised with the cooperation of Asian film archives and government agencies. -  To create a mutually beneficial exchange between Asian and European filmmaking companies.