Tsui HARK, 16th Busan International Film Festival 'Asian Filmmaker of the Year'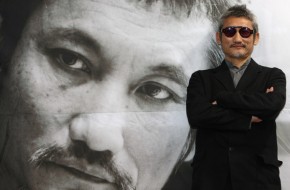 Site:
www.biff.kr
From the site:
The 16th Busan International Film Festival selected Tsui HARK as the 'Asian Filmmaker of the Year.' The award has been presented annually since the 8th Busan International Film Festival in 2003, to Asian Filmmakers who contribute to the advancement of Asian cinema. Representative Asian filmmakers who have previously received this honor include Iran's Mohsen MAKHMALBAF, Taiwan's Hou HSIAO-HSIEN, and Hong Kong's Andy LAU.
For more than 30 years, Tsui HARK established Hong Kong film in the global market and rewrote the history of Hong Kong films. The French Film Magazine, 'Les Cahiers du Cinema' called him a Cineaste, who changed the face of cinema. Hark is a versatile producer and a director who pioneered the Hong Kong New Wave in the 80s. Hark transcended times and genre to break new ground in Hong Kong cinema. He came into the spotlight with Warriors From The Magic Mountain (1982/ producer), which opened new SFX (special effects) era in Hong Kong (cinema). Hark produced A Better Tomorrow (1986/producer), and The Killer (1989/producer) which is regarded as the representative film of Hong Kong noir. In addition, his Chinese Ghost story established a new chapter in martial arts horror films. Last but not least, Hark directed and produced, Once Upon A Time In China (1991/ Director/producer) which made numerous series. He is widely acknowledged for his contributions during the Golden Age of Hong Kong Cinema.
In 2011, his passion for film carried into 3D films. His first 3D production, and the sequel of Dragon Inn (1992/director: Raymond Lee), The Flying Swords of Dragon Gate will premiere in December. The film will mark a new epoch in Hong Kong martial arts films.
For more than 30 years' he has had extensive influence on the development of Asian cinema as a producer and a director. To celebrate his career and to pay homage to his world acclaimed creativity, 16th Busan International Film Festival will proudly present 'The Asian Filmmaker of the Year' to Tsui HARK.
Read More
The 16th Busan International Film Festival is from October 6 to October 14
Asian Film Market and Asian Project Market are from October 10 to October 13
The 11th Busan International Film Commission & Industry Showcase (BIFCOM) is from October 10 to October 13