Prince Claus Fund: Call for Support to Endangered Documentary Heritage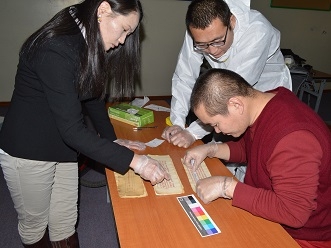 The
Prince Claus Fund
, through its
Cultural Emergency Response
programme
(CER)
, and the
Whiting Foundation
have announced a new call for proposals for
projects in Africa, Asia, Latin America, and the Caribbean to safeguard documentary heritage
that is acutely threatened by recent conflict or other disaster, whether natural or man-made.
Manuscripts, rare books, archives, tablets, inscriptions
, and other kinds of documentary heritage are living records of the ideas of bygone eras, sometimes the only form in which the past survives. Whether they are housed in libraries or held by families who have passed them down from generation to generation, they are cherished by the people who watch over them as objects of historical importance and deep local meaning. They are also
especially fragile vessels, susceptible to fire, insects, and humidity – and sometimes singled out for deliberate destruction
by those afraid of their power to express viewpoints and cultivate nuance. When disaster strikes – an earthquake, a flood, or an armed attack – the threat to these cultural objects is heightened; when it is overlooked or local resources for rescue are lacking, the heritage may be lost forever.
CER has a history of helping to prevent or minimize such loss
, for example by providing swift funding in Timbuktu, Mali, to begin the evacuation, digitisation, and inventorying of hundreds of thousands of ancient manuscripts to save them from the hands of militants; in Nepal to salvage the Madan Puraskar Pustakalaya archives – one of the largest repositories of Nepali-language materials in the world – after severe earthquake damage; and in war-torn Syria for the removal to safety of the Knooz archive of 19th and 20th century journalism.
This new funding collaboration aims to continue this work
, helping preserve writing for a new generation, contribute to the appreciation of cultural achievement, diversity, and history, and support the dissemination of forgotten or endangered stories worldwide.
Eligibility: Which projects will be supported?
The project must aim to safeguard documentary heritage (i.e., cultural heritage designed to carry information in writing, such as manuscripts, books, archives, tablets, and carvings or inscriptions).
The project must respond to a current or impending, acute disaster to offer relief in an emergency situation.
The country where the intervention will take place must be in Africa, Asia, Latin America, and the Caribbean, and the applying organisation or individual must live and work in one of these regions.
The heritage involved must be significant for a specific community, whether local, regional, national, or global; it may also have wider cultural value (artistic, architectural, and/or historical).
Local communities and/or local authorities must be involved in the emergency response, and the legal owner must support the proposed measures.
The intervention must be able to be carried out within a time frame of twelve months, corresponding to the emergency character of the collaboration.
No direct or indirect support will be provided to individuals or organisations currently subject to US sanctions.
Previous grantees of the Prince Claus Fund may not apply for a new grant unless the previous funded project is finished and closed before the application submission deadline for this year.
What expenses can be covered?
Grants will average about €15,000.
Grant funds can only cover project-related expenses, not running (operating) costs for organisations.
No support will be provided retroactively (i.e., to projects already implemented).
How to apply
Proposals will be accepted
on a rolling basis until
31 December 2017
. Applications need to include a brief statement of needs, with supporting materials if available, as well as information about the applicant and the context of the project. For
additional information
, please visit
http://princeclausfund.org/en/activities/open-call-first-aid-to-documentary-heritage-under-threat.html