from - to
28 Jan 2021 - 29 Jan 2021
Nuit des idées / Night of Ideas - global online event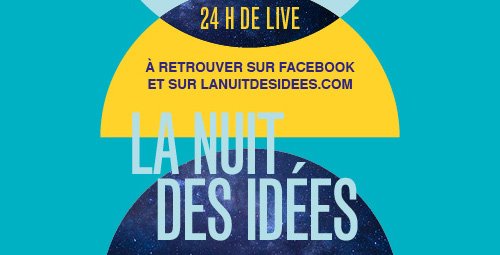 «24 hours of Night and Ideas » : a special streamed event, on the Facebook page of the Institut français, from January the 28th - 9:00 am (Paris time), to January the 29th - 9:00 am (Paris time). The 6th edition of the Nuit des idées (Night of Ideas) starts on Thursday 28 January 2021 with the theme « Closer »
This year, the Nuit des idées will also be a special 24-hour digital experience accessible to all, starting on the morning of 28 January and ending the following morning on 29 January.
Reports, interviews, debates and performances from around the world, from the islands of Fiji to San Francisco, Saint Petersburg to Kinshasa, Seoul, Dushanbe, Libreville, Mexico City and Amsterdam will cadence these 24 heures de Nuit et d'idées (24 hours of Night and Ideas), streamed live on Facebook, YouTube and the websites of the Institut français and the Nuit des idées.
During this brand-new event, renowned international artists, as well as young academics, philosophers, writers and scientists, activists and witnesses of all ages and from several dozen countries will talk about their towns, their work and their creations, illustrating the common concerns and thoughts that unite us all after a year of distance and separation.

The German philosopher and sociologist, Hartmut Rosa, will be the patron of the 6th edition of the Nuit des idées. A professor of general and theoretical sociology at the Friedrich Schiller University Jena, he has worked on social acceleration and modernity. In 2020, the French translation of his work, Unverfügbarkeit (Unavailability), was published by La Découverte. Three interviews with Hartmut Rosa will be live streamed.