from - to
26 Feb 2016 - 20 Mar 2016
New Zealand Festival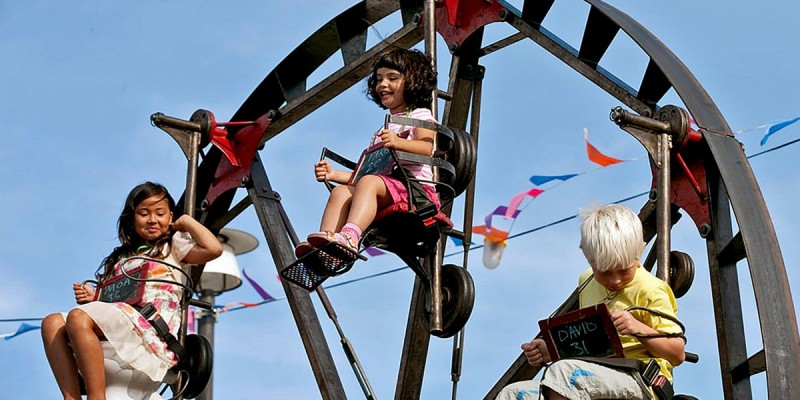 New Zealand Festival celebrates its 30th anniversary in 2016. From 26 February - 20 March, Wellington welcomes New Zealand's leading arts festival and makers of extraordinary events - 'Kick up the Arts!' Among the highlights coming from Asia and Europe:
Arquitectura de Feria is a Catalonian fairground No 8 wire-style, with seven fantastical hand-cranked rides put together from recycled material and scrap iron. A merry-go-round made of motorbikes. A Ferris wheel where kids are propelled around on toilet bowls. And swinging chairs where the grown-ups can rest easy after the rides, which all run on old-fashioned parent-power. The company Antigua I Barbuda's actors will be on site to fuel the surreal atmosphere of celebration.
Tanztheater Wuppertal Pina Bausch: 

Café Müller / The Rite of Spring
Discover why the great Pina Bausch (1940–2009) inspires such devotion when her legendary company comes to New Zealand for the first time.
Featuring 150 musicians from more than 20 countries, this multi-layered world music collaboration brings together the descendants of opposing forces in WWI and reunites them in friendship and musical solidarity.
Kneehigh Theatre: Dead Dog in a Suitcase (and other love songs) A New Beggar's Opera
Busting with wit, wonder and weirdness, this was one of
The Guardian
's Top 10 theatre shows of 2014. The ever-inventive, multi-talented Kneehigh rework John Gay's bawdy 18th-century musical satire
The Beggar's Opera
.
A rare chance to experience Monteverdi's
Vespro della Beata Vergine
in its entirety. Well established as one of the best European early music groups, Concerto Italiano are renowned for their performances of the work. As part of the NZ Festival, the
Writers Week
 programme of literary events takes place March 8-13.