Myanmar: Opening of new rooms at National Museum Nay Pyi Taw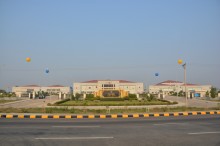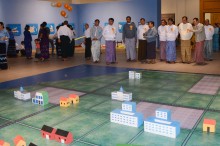 Following
an initial, 'soft' opening
in July 2015, the
National Museum Nay Pyi Taw
, Myanmar, an ASEMUS member, reached its second stage on 22 March 2016, with the
opening of five new exhibition rooms
. In particular, the five new rooms include the
Myanmar arts and crafts
exhibition room; the
ASEAN
exhibition room; the
"children discovery"
exhibition room; a
temporary
exhibition room; and the
Lion Throne
exhibition room. The
"children discovery" exhibition room
presents displays about the world and Myanmar for children aged 9 to 13, focusing on "Our universe", "Our ancestors", "Our nationalities", "Cultural conservation", "Archaeology experience" and "Build the city" among others. On the other hand, the
ASEAN exhibition room
includes display about the emblem of the Association of Southeast Asian Nations (ASEAN) and national costumes and traditional handicrafts of ASEAN member countries. In the
Lion Throne exhibition room
, the royal throne of Myanmar kings, known as the "Lion Throne", is proudly presented. This throne is a same-size replica of the throne of king Thibaw, from the 19th century A.D. In addition to the five new exhibition rooms,
the National Museum Nay Pyi Taw continues to present the seven galleries opened last July
, including the President's Gifts exhibition room, the Primates and Fossils exhibition room, the Prehistoric period exhibition room, the Proto-historic period exhibition room, the Historic period exhibition room, the Myanmar Arts exhibition room and the Myanmar Performing Arts exhibition room.