from - to
19 Feb 2015 - 28 May 2015
MOOC on Managing the Arts: Marketing for Cultural Organisations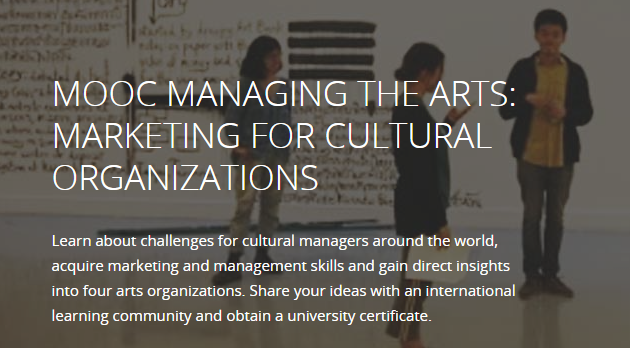 MOOC MANAGING THE ARTS: MARKETING FOR CULTURAL ORGANIZATIONS is a free 14 week online course set up by the Goethe Institut, in collaboration with Leuphana Digital School. Enrol now to acquire marketing and cultural management skills.
Enrolment is open until 18 February
Course runs 19 February - 28 May
http://vimeo.com/116533810 Learn about challenges for cultural managers around the world, acquire marketing and management skills and gain direct insights into four arts organizations. Share your ideas with an international learning community and obtain a university certificate.
Learn about the cultural economy
Acquire project management skills in the arts
Engage in qualitative research
Apply your learning in real-life case scenarios from Bangkok, Berlin, Budapest and Lagos
Network with a global community of experts, scholars and arts managers
Receive mentoring and feedback from academic staff
Participate without charge
Obtain a university certificate