from - to
15 Oct 2010 - 15 Nov 2010
Mobile Artistic Platform across South India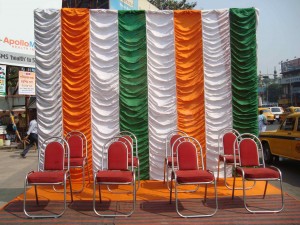 M.A.P.
Mobile Artistic Platform
is a multidisciplinary, travelling residency programme where participating artists will work and travel on an experimental journey to different locations in South India. Together, they will explore issues relating to sustainable tourism, cross-cultural exchanges, community-based practices and notions of hospitality. The project aims to foster meaningful interactions between Asian and European artists through participatory creative tools, such as film, photography, new media, visual arts, writing, theatre and performance, which provide the basis for understanding, knowledge sharing and creative collaborations. The programme kicks off in Bangalore on 15th October at local independent arts space 1Shanthi Road with a series of orientation workshops. The group will then take to the road over the next 17 days. The first stop will be in Nila River, in Kerala, known for its sustainable tourism and natural heritage. The second location will be in Anegundi, in the state of Karnataka, where the participants will focus their work on local life and food culture.
The artists will converge again in Bangalore on 12th November where they will present their findings over a two-day session of public talks, screenings and performances.
  The M.A.P. project will be showcased to both Indian and international audiences through an online media project. The conversations between the artists and local communities, as well as their projects relating to their encounters with different people and places will be presented through different communication tools, such as podcasts, a visual archive and video interviews. The project is organised by Reloading Images in collaboration with arts and media organisation Maraa, and with the support of the Asia-Europe Foundation (ASEF) and the Arts Network Asia (ANA).
M.A.P. Mobile Artistic Platform website