Korean Films take Myanmar by storm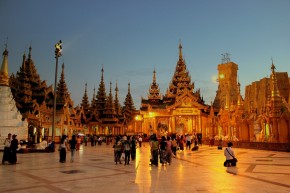 Korea captured the imagination of people in Myanmar when the popular K-drama 'Autumn in My Heart' hit televisions screens across the country. Increasingly, people were fascinated with Korean content, especially films. As a prelude to the
2014 Incheon Asian Games
, organizations in Korea and Myanmar provided just what the second largest nation in Southeast Asia is looking for!
Sponsored by Ministry of Culture, Sports and Tourism, CJ, and
Korean Film Council
,
the Myanmar Korean Film Festival
began in 2006 in an aim to strengthen the mutual alliance and cultural exchange between South Korea and Myanmar. The 2013 Korean Film Festival was held from October 24th to the 27th at Traders Hotel in Yangon, Myanmar.
The Korean Film Festival is part of a larger event that celebrates the culture of Korea, 'Korea Week 2013'. The event consists of Korea Film Festival, Asia New Star Model Contest, Korea Food Promotion, Korean Speech Contest and K-Pop Cover contest. Four popular Korean movies, 'Jeon-Woochi', 'The Client', 'The Show Must Go On' and 'Arahan', opened to the public for viewing during the festival.
The Myanmar Korean Film Festival began in 2006. Since then, Song Il Gook, Lee Hana, Choi Soo Jong, Jung Kyung Ho, and more have represented Korea. This year in 2013, Actor and member of the K-Pop group Shinhwa Kim Dong Wan attended the festival as a representative of Korea. Kim said, "I'm honored to be there as a representative of Korea. I'll try my best to help the cultural exchange between Korean and Myanmar."
Last year 35,000 Koreans traveled to Myanmar, 20,000 Myanmar citizens traveled to Korea. The numbers are continuing to grow every year with continuous effort from two countries. Hopefully, the bond between Myanmar and Korea becomes as strong as ever through the 2014 Incheon Asian Games.
Source - http://blog.incheon2014ag.com/myanmar-film/