from - to
12 Dec 2014 - 29 Mar 2015
Kochi-Muziris Biennale 2014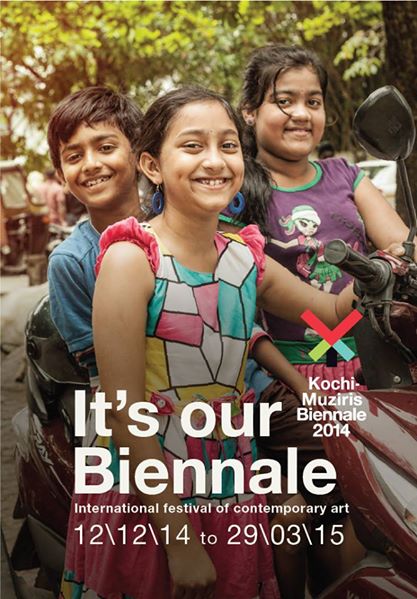 Kochi-Muziris Biennale 2014 opens 12 December in Kerala, India, and runs until 29 March 2015.  The theme is 'Whorled Expectations' and features artists from across India, Europe and Asia, under the Artistic Direction of artist Jitish Kallat. Read about the 94 
artists selected
for the Biennale, coming from 30 countries and the
inspiring venues
in the beautiful heritage city of Fort Kochi (Cochin). In addition to the main contemporary art programme, Kochi-Muziris Biennale features a
Student's Biennale
, a
Children's Biennale
 and many other collateral cultural programmes.
On the theme:
Two chronologically overlapping, but perhaps directly unrelated, historical episodes in Kerala during the 14th to 17th Centuries become parallel points of departure for 
Whorled Explorations
. Drawing from them, allusions to the historical and the cosmological recur throughout the exhibition like exaggerated extensions to gestures we make when we try to see or understand something. We either go close to it or move away from it in space, to see it clearly; we also reflect back or forth in time to understand the present. 
Whorled Explorations
 draws upon this act of deliberation, across axes of time and space to interlace the bygone with the imminent, the terrestrial with the celestial.
Jitish Kallat
Artistic Director,
 Kochi-Muziris Biennale 2014 Jitish Kallat was born in Mumbai in 1974, the city where he lives and works. His work has been exhibited widely at museums and institutions including Tate Modern (London), Martin Gorpius Bau (Berlin), Gallery of Modern Art (Brisbane), Serpentine Gallery (London), Mori Art Museum (Tokyo), Hangar Bicocca (Milan), ZKM Museum (Karlsruhe), Arken Museum of Moderne Kunst (Copenhagen), MAXXI (Rome) and the Art Gallery of New South Wales (Sydney).