30 Nov 2015 - 02 Dec 2015
International Symposium on Intangible Cultural Heritage | Malaysia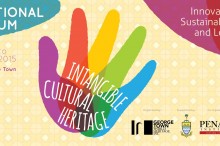 An
international symposium on Intangible Cultural Heritage
will take place in George Town, Penang, Malaysia, between
30 November and 2 December 2015
. The event is organised by George Town World Heritage Incorporated (GTWHI) and co-organised by the Penang Institute, in partnership with the Penang Global Tourism. The
theme
of this year's symposium, which aims to become a regular event, is
'Innovative Practices, Sustainable Strategies, and Lessons Learnt'
. Specific
objectives
of the event include the following:
To exchange innovative practices, sustainable strategies, and lessons learnt from Asia and the world in relation to the conservation and revitalization of intangible cultural heritage.
To strengthen cooperation and collaboration between practitioners, policy-makers, researchers, activists and communities in the efforts to sustain intangible cultural heritage.
To promote sustainable development and dynamic growth of intangible cultural heritage for present and future generations.
The following
issues
will be discussed in detail
Effective policymaking and implementation of World Heritage Sites management.
Conservation, protection, and sustainability of endangered intangible cultural heritage.
Tools for heritage inventory, mapping and asset categorization with emphasis on local experience and needs.
Entrepreneurship and economy within World Heritage Sites.
Bottom-up interpretation and identification of intangible cultural heritage identity.
The programme of the symposium features
keynote speeches, paper presentations, and roundtable discussions
by practitioners, researchers, and communities with established experience in the protection, revitalization, and management of intangible cultural heritage. The
keynote speech will be delivered by Dr. Seong-Yong Park
, Assistant Director-General of the International Information and Networking Centre for Intangible Cultural Heritage in the Asia-Pacific Region, under the auspices of UNESCO. He will deliver a presentation entitled 'Intangible Cultural Heritage Safeguarding, Communities, and Sustainable Development'. Several other speakers from across Asia are also confirmed.
Registration
to attend the International Symposium on Intangible Cultural Heritage is
open until 30 October
. For
additional information
, please visit 
http://www.gtwhi.com.my/index.php/collaborate/conferences/international-symposium-on-intangible-cultural-heritage