from - to
10 Jun 2020 - 10 Jun 2020
A India-Spain Dialogue on Space and Dance in the context of pandemia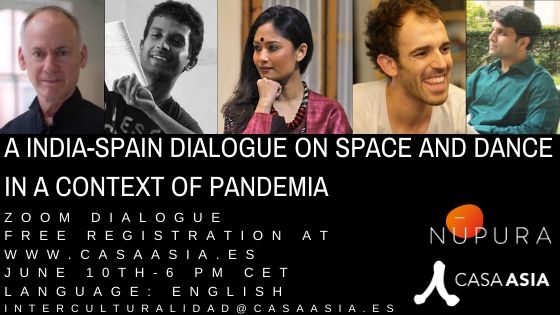 Dancers interact with space. Past proves that space has often been the prime factor which has influenced to create many dance forms. At present, what happens in confinement? How did dancers reflect upon their relation to space? How did they experiment movement in a context of space restrictions? Will new spaces change performance content?
All these vital questions for a dancer take another dimension when dancers without borders engage into dialogue, taking into account different types of dance, cultures, traditions, languages and challenges. Dancers from Pune, Bangalore, Barcelona, and New York will engage into dialogue around this topic.
Organised by Casa Asia, this online conversation will include the following speakers:
Shreyashee Nag
Dance Artist. Director Founder of Nupura : International Centre of Dance and Music, Spain. Director Founder Shreyashee Nag Dance Company. Blackbook Billboard Award Winner by West Bengal Government. Part of Sol Pico Company´s We Women production, has travelled all across the world sharing her story.
Miquel Barcelona
He is a cross-disciplinary artist with more than 15 years of professional experience as a dancer and performer. He has participated of projects by outstanding directors, choreographers and colleagues like Carolyn Carlson, Juan Kruz de Gario Esnaola, Raffaelle Giovanola, Cobosmika, Sol Picó, Ramon Oller, Roberto G Alonso, Darío Fo, Àlex Rigola, Qars Teatre or Atrium Teatre, among others.
Parimal Phadke
Dancer, choreographer and lecturer at the Center of Performing Arts, at the prestigious University of Pune, India. He holds many awards by the Government of India. He has specialized in the traditional classical dance form Bharatnatyam, yet he has crossed many boundaries and has participated in many contemporary dance projects.
Abhilash Ningappa
Abhilash Ningappa, Founder and Artistic Director of Play Practice Artists Residency (INDIA), born and based in India. Recognised as performer, choreographer and teacher both nationally and internationally . A yoga practitioner and a martial art teacher, trained in kalari payattu and contemporary dance.
Jonathan Hollander
An American dancer, choreographer, educator, and artistic director. He founded the Battery Dance Company in New York City in 1976, opening the Battery Dance Studio that same year. He also founded the Downtown Dance Festival,[1] held annually in New York City since 1982. Since 2008, the Downtown Dance Festival has included the Erasing Borders Festival of Indian Dance.[2][3] As a dance educator, Hollander has been active in bringing dance into the public schools; and is known for the award-winning «Dancing to Connect» program. He is also known for his ties to India, and for presenting and promoting Indian dancers in New York. He is a co-founder of the Indo-American Arts Council.
Moderated by:
Gaëlle Patin Laloy, Diversity and Intercultural Programme Project Manager of Casa Asia.
10/06/2020 | 6 pm CET
Free registration at https://inscripciones.casaasia.es/inscripciones/start.php?id=5774