from - to
02 Sep 2011 - 23 Oct 2011
Gwangju Design Biennale 2011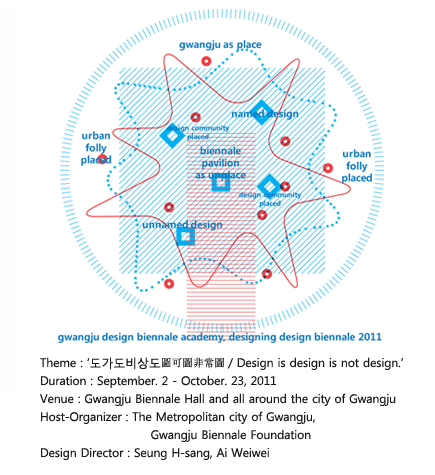 'What is Design' -
in search of a new paradigm of design in a rapidly changing world - Gwangju Design Biennale takes place from September 2 - October 23. Thematic, Named, Un-Named, Communities… The 2011 Gwangju Design Biennale
dogadobisangdo
(圖可圖非常圖) presents the changing concepts, practices and potential of contemporary design and provides a new platform for the significance of Asia. Inspired by the first lines of Lao Tzu's Tao Te Ching (道德經)--"the way that is the way is not always the way"--the title theme of the Biennale,
dogadobisango
-"design is design is not design,"
adopts but replaces 道(do - the way) with 圖(do - the design) in an effort to re-examine and rename the fundamental issues of design today. The Biennale will exhibit over 132 works by 129 designers and 74 corporations from more than 40 countries. The six main sections of the Biennale—Thematic, Named, Un-Named, Gwangju Follies, Communities, and Biennale City—will be exhibited in an integrated manner under the following organizational categories borrowed from newspaper headings:
politics
, money,
culture, body, en
vironment
, home,
science,
and
sports.
At a recent press conference held at the Sejong-ro Korea Press Center on July 12
th
, the Artistic Director of the
Gwangju Design Biennale 2011, Seung H-Sang,  stated that " this year's Design Biennale will present a new vision of design that highlights the significance of Asia amidst contemporary transformations in world culture." According to Seung, "21
st
century design has moved beyond creating beautiful objects. The role of design has been expanded to the creation of new sites and the enhancement of livelihood through relationships between people and places. As the field of design continues to subdivide into more particular categories, the role of designers has become more diversified. Moreover, new concepts and fields of design have also begun to appear. In the face of a rapidly changing world, the 4th Gwangju Design Biennale explores the dynamic of design that is placed and un-placed, design that is named and un-named, and the communities that are woven through these relations. The exhibition is conceived as an ecology that reflects the complexity of contemporary conditions and allows for new and unexpected concepts, practices, and social relations.