Gwangju Biennale announces participating artists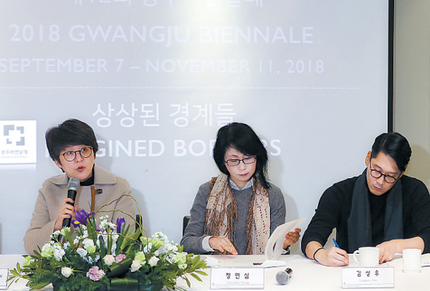 The Gwangju Biennale has revealed the names of the artists participating in its 2018 edition, titled "Imagined Borders." More than 150 artists from forty countries will exhibit works. This year's title is a reference to the inaugural exhibition's theme, "Beyond the Borders," as well as to the late political scientist and historian Benedict Anderson's book Imagined Communities (1983), which examined the origins of nationalism.
The biennial will be divided into seven separate exhibitions that will address issues ranging from migration to technology. The 11-person curatorial team is made up of art historians Yeon Shim Chung and Yeewan Koon; South Korean curators Sung Woo Kim, Man Seok Kim, and Chong-Ok Paek; Gridthiya Gaweewong, the artistic director of Bangkok's Jim Thompson Art Center; Rita Gonzalez, the head of contemporary art at the Los Angeles County Museum of Art; Christine Y. Kim, the associate curator of contemporary art at the Los Angeles County Museum of Art; Clara Kim, Tate's senior curator of international art; B. G. Muhn, an educator and specialist on North Korea; and David Teh, an independent curator and art critic.
In addition to the new exhibition model, the biennial will commission site-specific works that focus on the 1980 Gwangju Uprising, a mass protest during which hundreds of people were killed as authorities tried to repress the demonstration, and the Pavilion Project, for which the Palais de Tokyo, the Helsinki International Artist Program, and the Philippine Contemporary Art Network will stage satellite exhibitions.
The 12th Gwangju Biennale opens on September 7 and runs until November 11.
The full list of participating artists, presented on ArtForum, includes artists from France, Portugal, the Philippines, Korea, India, UK, Viet Nam, Thailand, Malaysia, Australia, Poland, Bangladesh, Singapore, Russian Federation, Belgium, Netherlands, Japan, Italy, China and New Zealand.
Image: Gwangju Biennale Foundation president Sunjung Kim and two of the eleven curators of the 2018 edition, Chung Yeon-shim and Kim Sung-woo, at a press conference.Photo: YONHAP.