Gwangju Biennale announces 2012 Artistic Directors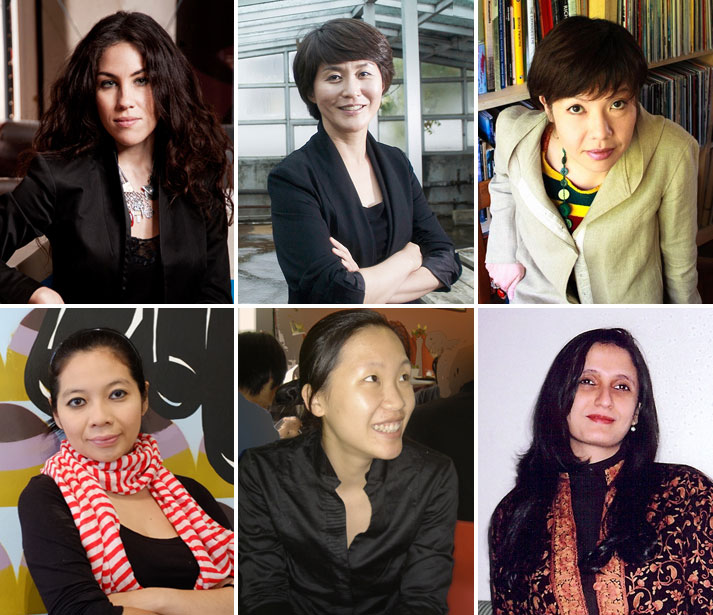 For the first time, the Gwangju Biennale has appointed a group of six young Asian women curators to co-direct the exhibition and programme. The Artistic Directors of 9th Gwangju Biennale are young and internationally renowned curators in Korea, China, Japan, India, South-East Asia, and the Middle East.
The Gwangju Biennale Foundation is delighted to announce the appointment of
Sunjung Kim, Mami Kataoka, Carol Yinghua Lu, Nancy Adajania, Wassan Al-Khudhairi, and Alia Swastika
as Joint Artistic Directors of the 9th Gwangju Biennale 2012.
The Gwangju Biennale Foundation has not selected Asian female curators in order to display the political, cultural, or geopolitical hegemony of Asia. Instead, through their appointment, we seek to build a platform that can embrace layers of diverse and engaging discussions in visual culture. As the oldest and most prestigious biennale of Asia, we hope to provide an opportunity to rethink and reexamine the anthropological and aesthetic positioning of Asia. Breaking away from past regional and global conflicts and the constant collision between truth and information, we propose to discover a new grammar of communication unique to the Biennale.
The Artistic Directors of 9
th
Gwangju Biennale are young and internationally renowned curators in Korea, China, Japan, India, South-East Asia, and the Middle East. Rather than driven by political ideology or systemic concerns, these curators will engage both the autonomous language of art and the active communication networks of civil society to produce the exhibition and audience participation programs. The Gwangju Biennale will maintain a commitment to the democratic values of social consensus and human rights long supported by the Foundation, as well as create a space for aesthetic discourse.
•
Sunjung Kim
is a Seoul-based independent curator and Professor at the Korea National University of Arts. From 1993 to 2004, Kim was the Chief Curator at Artsonje Center in Seoul. In 2005, she was the commissioner of the Korean Pavilion at the 51st Venice Biennale. The first festival, titled "Somewhere in Time," was followed by "Tomorrow" (2007), "I have nothing to say and I am saying it" (2008), "Platform in KIMUSA: Void of Memory" (2009) and "Projected Image" (2010). Most recently, Kim was the Artistic Director of the 6th Seoul International Media Art Biennale - Media City Seoul 2010.
•
Mami Kataoka
is a curator and writer and has been the Chief Curator of the Mori Art Museum, Tokyo, Japan, since 2003. From 2007-2009, Kataoka joined the curatorial team at the Hayward Gallery in London as the first international curator. During her tenure at the Mori Art Museum, Kataoka has curated a number of exhibitions, including "Ozawa Tsuyoshi: Answer with Yes and No!" (2004), "All About Laughter: Humor in Contemporary Art" (2006),  "Ai Weiwei: According to What?" (2009) and most recently "Sensing Nature: Perception of Nature in Japan"(2010).
•
Carol Yinghua Lu
is a curator and writer who lives and works
in Beijing. She is a contributing editor for
Frieze
and co-founder and co-editor of
Contemporary Art & Investment
magazine. She writes frequently for international art journals and magazines including
e-flux journal
,
The Exhibitionist
,
Yishu
, and
Tate
. Her texts on contemporary art have also appeared in many art catalogues, books, publications, and critical readers. From 2005-2007, she was the China researcher for Asia Art Archive. From 2009-2010,  she was the founder and Art Director of SUITCASE ART PROJECTS, a project space of Today Art Museum
•
Nancy Adajania
is a cultural theorist, art critic and independent curator, based in Bombay. She was educated in Politics, Social Communications Media, and Film. She has written and lectured extensively on extended sculpture, new media, public art and transcultural art practice  (including at Documenta 11, Kassel; ZKM, Karlsruhe; Transmediale, Berlin; Lottringer 13, Munich; Neuer Berliner Kunstverein, Berlin; Kuenstlerhaus Wien, Vienna; Kunsthalle Wien, Vienna; Gulbenkian Foundation, Lisbon; Soma Museum, Korea; Wuerttembergische Kunstverein, Stuttgart; The Danish Contemporary Art Foundation, Copenhagen; and BAK, Utrecht). Adajania was Editor-in-Chief of
Art India
magazine.
•
Wassan Al-Khudhairi
is the director of Mathaf: Arab Museum of Modern Art, since 2010, responsible for developing the newly established institution and managing the development of its new building. She also oversees policy development, acquisitions and collections registration. As a curator, she specializes in modern and contemporary art from the Arab world, with a particular emphasis on Iraq. She is of Iraqi origin and has lived in Kuwait, Saudi Arabia, Egypt, the U.K. and the U.S., where she worked at the High Museum of Art in Atlanta and the Brooklyn Museum of Art in New York.
• Alia Swasticka
is
a curator, project manager, and writer based in Jakarta. From 2002-2004,
Swasktika worked as Associate Editor for
SURAT
newsletter, published by the Cemeti Art Foundation, which led to her curatorial debut at the Cemeti Art House, where she worked as an Artistic Manager from 2004-2009. In the meantime, she joined staff exchange programme in UfaFabrik, Berlin, Germany with a grant from Asia Europe Foundation (ASEF), and the same program funded by Kelola Foundation and Asian Cultural Council. Since 2008, she has been working for Ark Galerie in Jakarta and has recently been appointed as a curator of the upcoming Jogja Biennale XI in November.
The
9th Gwangju Biennale
takes place in Gwangju, Korea in autumn 2012.
Image: Wassan Al-Khudhairi (photographed by Jorell Legaspi), Sunjung Kim (photographed by Seung Mu Lee), Mami Kataoka, Alia Swastika, Carol Yinghua Lu, and Nancy Adajania (photographed by Ranjit Hoskote-Srinagar) (Top-left to bottom-right)