FROM - TO
15 Dec 2016 - 15 Dec 2016
GALA "Art for the Earth" Green Dialogue | Bangkok

The Green Art lab Alliance (GALA)
is a platform for the international art and sustainability movement. It currently consist of
20 key partners in Europe and 15 in Asia
, and several satellite organisations. The platform allows for networking, knowledge exchange and mutual support. GALA is organising on 15 December in Bangkok, a creative marketplace for for ideas and stories; the opportunity to share environmental concerns as well as possible solutions, tips and resources for sustainable living. The event will follow the 
roundtable
 format on which delicious food will be shared, whilst trying to unravel and understand the complexities of how it came to the table; discussing topics varying from the plummeted price of rice and organic certification schemes to (food) waste and packaging. The event will consist of a programme of local and international key speakers who will share
how their creative work contributed to positive change
. Speakers will include Dr Singh Intrachooto (Scraplab), Bamboo Curtain Studio (Taipei), Yasmine Ostendorf (Green Art Lab Alliance), Ruangsak Anuwatwimon (artist), Thanan Lilaonitkul (Creative District), Madeleine Recknagel (zero-waster) and many more!  Next to presentations and moderated conversations all participants will communally work on a Resource Inventory; a database in which different skills, contacts or other resources of each participant will be contributed to the movement.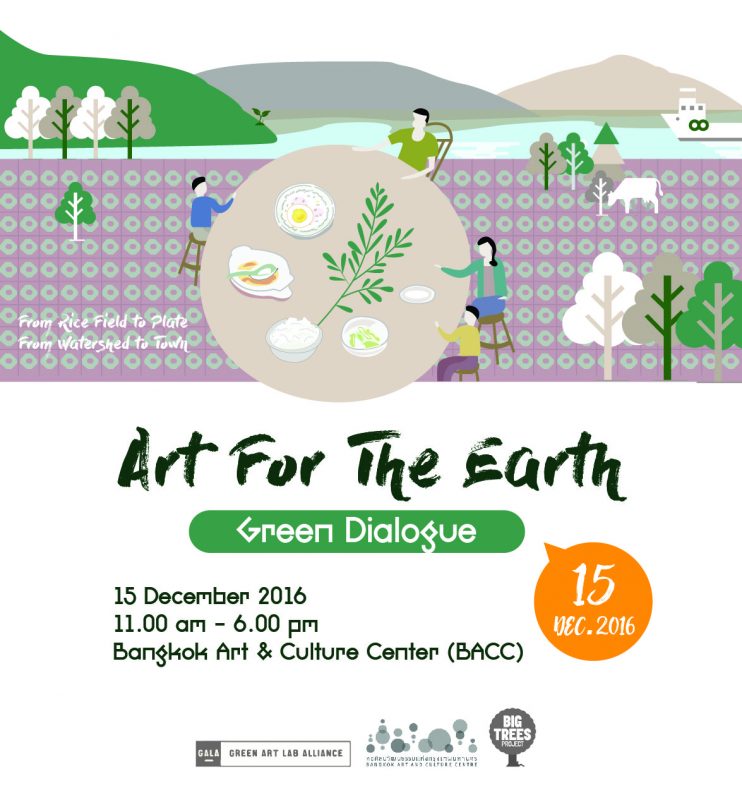 AIM
//Catalysing creative and cross-disciplinary collaboration to tackle environmental issues. //Facilitating knowledge exchange between the creative and the environmental sector.
HOW
//By empowering people to realise the knowledge, resources and network is available to them and how to think creatively about solutions. //Unlocking the potential of people by working cross-discipline.
WHO
Artists, designers, architects, foodies, environmentalists, activists, scientists, anyone interested! See GALA Manifesto here:  
https://facebook.com/notes/big-trees/green-art-lab-alliance-manifesto/1224806590907811
]
---