FX Harsono wins Joseph Balestier Award for the Freedom of Art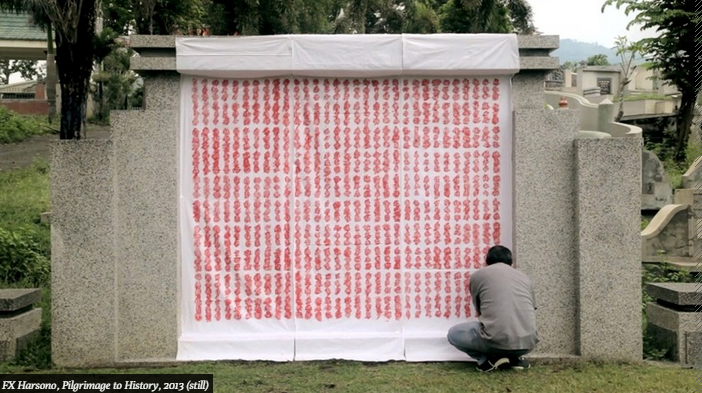 Indonesian artist 
FX Harsono
 has received the inaugural Joseph Balestier Award for the Freedom of Art. It honours an artist or curator from Southeast Asia whose work is dedicated to the ideals of freedom of art, expression, and liberty.
The
Joseph Balestier Award for the Freedom of Art
was launched in 2015 and consists of a grant of US$5,000, a trophy and a winner's certificate. It was jointly presented by Kirk Wagar, U.S. Ambassador to Singapore and Lorenzo Rudolf, founder and Fair Director, Art Stage Singapore in January.
Since his engagement in the anti-establishment group Gerakan Seni Rupa Baru (the New Art Movement) as a student in the 1970s, Harsono's practice has been committed to a political and social critique within his country. Born in 1948, he studied painting at STSRI "ASRI", Yogyakarta (Indonesia) and at IKJ (Jakarta Art Institute) and since 2005 has been a lecturer at the Faculty of Art and Design, Pelita Harapan University, Tangerang (West Java). Parallel to his art practice, Harsono regularly writes about social questions and the development of contemporary art.
Recent solo exhibitions include 
Things Happen When We Remember / Kita Ingat Maka Terjadilah
, Selasar Sunaryo Art Space, Bandung, Indonesia (2014), 
What we have here perceived as truth/we shall some day encounter as beauty
, Jogjakarta National Museum, Jogjakarta, Indonesia (2013), 
Writing In The Rain
, Tyler Rollins, New York, USA (2012), 
Testimonies
, Singapore Art Museum, Singapore (2010), and
The Erased Time
, National Gallery of Indonesia, Jakarta (2009).
The seven nominated artists were Lee Wen (Singapore), FX Harsono (Indonesia), 
Nadiah Bamadhaj (Malaysia),
Manit Sriwanichpoom (Thailand), Pablo Baen Santos (Philippines), Aye Ko (Myanmar) and Svay Sareth (Cambodia).
Read
more on Universes-in-Universe