Furnace Journal: New Issue Out and Call for Papers Open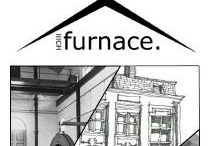 furnace
is an open access, postgraduate/ graduate journal edited by doctoral researchers from the
Ironbridge International Institute for Cultural Heritage (IIICH)
at the University of Birmingham, UK.
furnace
hopes to be a facilitator for sparking debates and discussions surrounding the expanding and diversifying disciplinary field of cultural heritage. Its
third issue
, focusing on
Industrial World Heritage
, has recently been published. Editors Joe Raine and Chao-Shiang Li highlight that "after long years of being regarded as comparatively underrepresented on the World Heritage List it seems that Industrial Heritage has finally gained a foothold on the global stage". Yet, despite this increased profile, the  concept of 'Industrial World Heritage' is relatively under-researched. This issue of
furnace
contains
articles addressing Industrial World Heritage in the UK, Austria, China and Brazil
, which are available for download either as
a complete set
or
individually
. In parallel, a
call for papers
for inclusion in the fifth issue of the journal has also been launched, under the topic
"World Heritage and Communities"
. There are a range of approaches to heritage management in different parts of the world and, within these, the role of 'people' in management of World Heritage properties is given different levels of importance. In this respect, editors are seeking submissions with a focus on exploring the relationship between 'community' and World Heritage, which can be approached theoretically or through a case study by
addressing one or more of the following questions
:
What are the main obstacles in the World Heritage system which prevent communities from engaging actively in the conservation process?
What is the interaction between universal values and 'local knowledge' or does this interaction exist at all?
What does a World Heritage site mean to its local communities and what does it do for them?
Full papers should be sent
by 30 September 2016
. For
access to the third issue of furnace on Industrial World Heritage
, please visit
https://furnacejournal.wordpress.com/edition-one/issue-three-industrial-world-heritage/
For
additional information
about the
call for papers
, please visit
https://furnacejournal.wordpress.com/call-for-papers/