Furnace Journal: Cultural Heritage in a Digital Age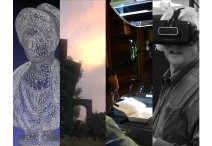 The
Ironbridge International Institute for Cultural Heritage (IIICH)
at the University of Birmingham, UK, has recently published the second issue of
furnace
, its Postgraduate Journal. The theme of this second edition is 'Cultural Heritage in a Digital Age'. Introducing the issue, editors explain that
in today's digital age, technology is embedded in all cultural heritage and engagement
. In this context, the issue aims to identify through case studies the current framework between cultural heritage and digital technology, by addressing questions such as the following:
Does digital technology include or exclude?
How participatory are the current buzzwords of 'crowdfunding', 'crowdsourcing', 'user-generated content' or 'mobile technology'?
Has an ethical and critical discourse been developed to accommodate this rapidly-developing environment?
In addition to a range of case studies from the UK and abroad, the issue also includes an exclusive report from the newly-formed UK Digital Technology Committee of the International Council of Monuments and Sites (ICOMOS). The
full list of contents
for this issue is as follows:
Davies, J. and Raine, J. Editorial: Cultural Heritage in a Digital Age.
Stone, R J. Keynote Paper: Virtual and Augmented Reality Technologies for Applications in Cultural Heritage: A Human Factors Perspective.
Majewski, J. Cultural Heritage in Role-playing Video Games: A Map of Approaches.
Wicks, S. The Value of Mobile Phones in Heritage Interpretation.
Akcebe, N and Baydar, N. An Assessment of the Digital Preservation of Manuscript Collections: The Experience of Topkapı Palace and İstanbul Archaeology Museums Libraries.
Bonacini, E. Inzerillo, L. Marcucci, M. Santagati, C and Todisco, F. 3D #DigitalInvasions: A Crowdsourcing Project for Mobile User Generated Content.
Hazan, S. Performing the Museum in the Age of Digital Reproduction.
Hughes, R. The International Council of Monuments and Sites: A New Digital Technology National Committee.
Agisheva, S. Exhibition Review: Historic Urban Landscape: Dreaming, Drawing, Design.
Baratin, L and Checcucci, G. Online Image Special: New Systems for the Characterization of the State of Conservation of Contemporary Art.
The second issue of
furnace
is
available for free download
at
https://furnacejournal.wordpress.com/edition-one/issue-two/
A
call for papers
for the third issue of the journal, entitled 'Cultural Heritage in a Transatlantic Age', has also been launched, with a deadline for abstracts of 9 November 2015.