France to be guest of honour at Frankfurt Book Fair 2017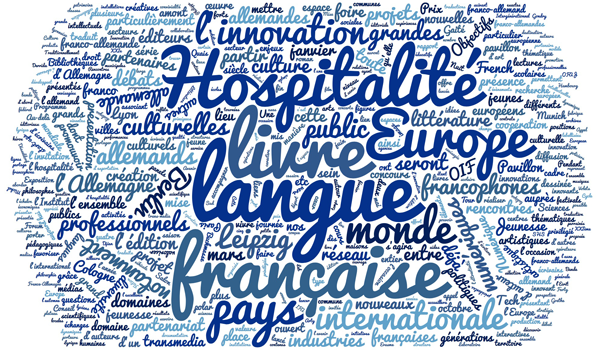 The 2017 Guest of Honour at the Frankfurt International Book Fair is announced. From 11-15 October 2017, France and the French language will be honoured. The invitation is a historic opportunity for the French language to demonstrate its openness to the world, to promote the talent and innovation that makes it live today.
The programme will include a special guest pavilion at the Frankfurt Book Fair, with events organised across the city 11-15 October 2017 in collaboration with the performing, visual and film venues of Frankfurt.
Across Germany from March - October 2017, a wide-ranging cultural programme will be organised, launched at the Cologne LitFest and Leipzig Book Fair in March. This multi-disciplinary arts and culture programme will reach around 30 cities in Germany.
Information follows in French:
A travers les créateurs, les auteurs, les penseurs, les éditeurs invités et présents pour l'occasion, la programmation de l'invitation française sera rythmée par les thèmes de l'hospitalité, de l'innovation et de la jeunesse. Elle se déclinera selon deux niveaux :


A Francfort, du 11 au 15 octobre 2017. La France sera présente sur le pavillon d'honneur, au sein de la Foire du livre et développera des activités culturelles dans toute la ville, organisées en collaboration avec les établissements prestigieux de Francfort (Alte Oper, Kunst Museum, Film museum…).


Sur l'ensemble de l'Allemagne, de mars à octobre 2017. Une véritable programmation culturelle annuelle française sera organisée en Allemagne. Elle sera lancée, en mars, dans le cadre du festival Litfest de Köln et de la Leipziger Buchmesse. Pluridisciplinaire, offrant une programmation cohérente et variée, elle proposera des centaines de manifestations organisées par l'Institut français d'Allemagne et à l'initiative des partenaires et acteurs culturels allemands. Seront plus spécialement concernés les villes de Berlin, Munich, Francfort, Hambourg, Brême, Düsseldorf, Cologne, Stuttgart, Kiel, Rostock, Magdeburg, Leipzig, Dresde, Erfurt, Erlangen, Mannheim, Heidelberg, Karlsruhe, Freiburg, Saarbrücken, Mainz, Aachen, Bonn, Essen, Tübingen, Hanovre.


En 2017 dans toute l'Allemagne et en octobre 2017 à Francfort, venez découvrir une programmation ouverte et destinée à tous !
More information:
Frankfurt Book Fair
Link in French to
Institut Francais
announcement
Links in French and German to:
Francfort 2017
(dedicated project page)