07 Jun 2016 - 27 Nov 2016
Exhibition: "The Shogun's Cultured Warriors" | United Kingdom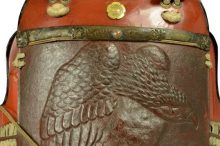 The
Oriental Museum at Durham University
, UK, an ASEMUS member, is presenting an exhibition entitled
"The Shogun's Cultured Warriors"
between 7 June and 27 November 2016. The exhibition explores
the role of the samurai class as patrons and producers of the arts, together with their legacy in Japan and in the West today
. The samurai were the military class of Japan, who developed from provincial warriors into the ruling elite. They were a powerful force in Japan for more than six centuries and so had a profound effect on military and political life. High-ranking warriors were also expected to develop their literary skills and they played an active role as patrons of the arts. "The Shogun's Cultured Warriors" has been designed to support
a conference entitled "400th Anniversary of the Death of the first Tokugawa Shogun: the Life and Legacy of Tokugawa Ieyasu"
, which will take place in Durham on 7-9 June. 2016 marks 400 years since the death of the first shogun, Tokugawa Ieyasu, who founded the Tokugawa shogunate (1603-1868), considered one of the key turning points in Japanese history.  To this end, the conference will bring together experts on Japanese history, religion, and material culture to commemorate, explain, and explore Ieyasu's career and legacy. The exhibition "The Shogun's Cultured Warriors" has been created with support from Durham University's Centre for Visual Arts and Culture. For
additional information about the exhibition
, please visit
https://www.dur.ac.uk/oriental.museum/whatson/details/?id=30031