from - to
16 Feb 2011 - 20 Feb 2011
culture360.org attends "Asian Maps" at Arco Madrid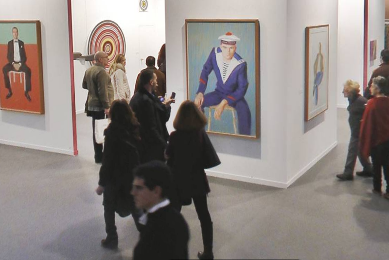 As part of the ARCO International Contemporary Art Fair, Madrid Feb 16-20, a series of Expert Forums will be held.
The Asia-Europe Foundation's Cultural Exchange Director, Sabina Santarossa and culture360.org's Project Coordinator Valentina Riccardi will speak at:
ASIAN MAPS: MAPS AND NETWORKS IN THE GLOBAL SOCIETY
Organised by:
Casa Asia
, Saturday 19th, 12:30 - 2:00 pm. Open Forum
Directed by:
Menene Gras, Director of Culture & Exhibitions, CASA ASIA, Madrid/Barcelona, SPAIN .
This latest edition of "Asian Maps" wishes to aid the creation of networks between Asia and Europe and between all Asian countries and Spain , which would facilitate a two-way exchange and provide the instruments to ensure its continuity. The idea behind this meeting space is to promote information and knowledge that will help improve networks of relationships that stimulate exchange.
Speakers:
Sabina Santarossa
, Director, Cultural Exchange,
Asia-Europe Foundation
, SINGAPORE
Jin-Suk Suh
, Director, Asia Art Award and the
Alternative Space Loop
, Seoul , KOREA
Rachel Rits-Volloch
, Founding Director,
Momentum
, Berlin , GERMANY
Sarah Bond
, Director,
Asialink
Visual Arts Program, Parkville , AUSTRALIA
Massimiliano Gioni
, New Museum , New York , USA
Jin Hua
, Director of Institutional Liaison, CAFA: Singapore Art Fair, Beijing , CHINA
Valentina Riccardi
,
Asia-Europe Foundation
, Project Coordinator culture360.org, SINGAPORE .