Cultural Policy Research Award announced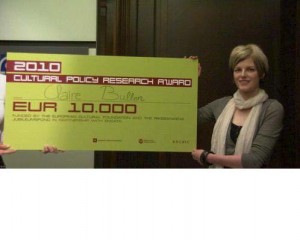 The winner of the CPR Award 2010, worth 10.000 euros, was publicly announced on
7 October
at 14h00 during the
18th ENCATC Annual Conference
which took place in Brussels on 6-8 October 2010.
The
Cultural Policy Research Award
was launched in 2004 by the
European Cultural Foundation
(ECF) and the Riksbankens Jubileumsfond, and since 2008, is developed in partnership with the
European Network of Cultural Administration Training Centres
(ENCATC).
Designed to  foster academic and applied cultural policy research and to explore issues at stake in contemporary Europe, the Cultural Policy Research Award aims to
contribute to new competence building among young scholars in comparative cultural policy research
.
The
Winner of the 2010 CPRA is Claire Bullen
, a 2nd year PhD Student at the Research Institute for Cosmopolitan Cultures – an inter-disciplinary research centre at the University of Manchester. The title of her research project is "European Capitals of Culture and everyday cultural diversity: Comparing social relations and cultural policies in Liverpool (UK) and Marseille (France)".
For more information please visit
Encatc
Encatc-press release