Coalition of International Film Academies announced at Cannes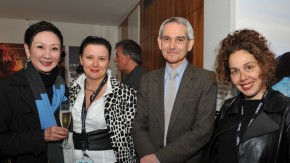 The
Asia Pacific Screen Awards
announced the formation of an international coalition of three film academies, earlier this month at the sidelines of the Cannes Film Festival. The participating members of the coalition are the Asia Pacific Screen Academy (APSA), the European Film Academy (EFA) and the Australian Academy of Cinema and Television Arts (AACTA). Members from this foundation of academies will have the opportunity to share valuable experience, knowledge and collaborate on international projects.
Academy members from the EFA and AACTA have been named as part of the 2012 APSA Jury. The three Jury members announced at the Cannes reception earlier today are actress Maria De Medeiros (EFA member), known among other achievements, for her role as Bruce Willis' girlfriend in Pulp Fiction; APSA winning producer, Zeynep Özbatur Atakan (EFA and APSA academy member); and 2011 APSA best actor nominee Sasson Gabay (EFA and APSA academy member) currently one of the most prolific and highly respected actors working in Israeli cinema.
The Asia Pacific Screen Awards (APSA) promote and acclaim the cinematic excellence and cultural diversity of the vast Asia Pacific region. An international cultural initiative of the Queensland State Government, Australia, it also brings together in a unique collaboration Paris-based UNESCO and FIAPF-International Federation of Film Producers Associations.Now in its sixth year, the APSA ceremony, or APSAs as it has become known, has become a major event on the Asia Pacific film industry calendar. Seventy countries are eligible to submit films for the competition. In recent years more than forty countries have had their films in selection.
Source : http://www.asiapacificscreenacademy.com/2012/05/coalition-of-international-film-academies-confirmed-in-cannes/