from - to
01 Nov 2016 - 07 Nov 2016
Cambodia | Kampot Writers & Readers Festival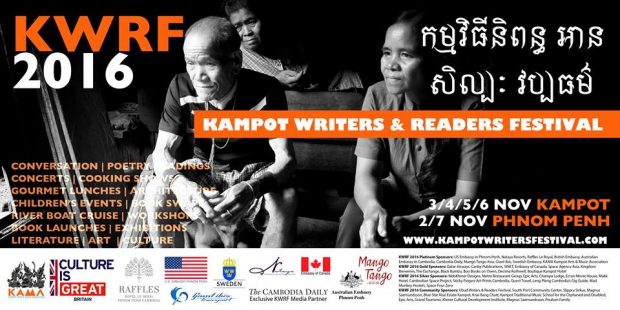 Kampot Writers & Readers Festival (
KWRF) is held annually in November in Kampot, Cambodia. The 2nd edition presents 7 days of literature, arts and culture, with the Kampot festival 3-6 November and pre- and after-festival events in Phnom Penh. The 2016 Kampot Writers & Readers Festival explores themes of 'Peace, Freedom, and Prosperity' (Santiphap, Seripheap, Pheap Roungrueng) and marks the 25th anniversary of the Paris Peace Accords. The Paris Peace Accords were signed on October 23, 1991 and marked the official end of the Cambodian–Vietnamese War. Check out the
full programme
 of events - looks great!
New Cambodian Voices
– festival forum & media lab New Cambodian Voices is center stage in this year's program as a four-day workshop within KWRF. NCV intends to promote Cambodia's new wave of aspiring writers, thinkers, artists, performers and musicians to bring together Cambodia's next generation of creative talent – from literature and spoken word to music, cinematography, photography, graphic design, digital media, fashion and much more – the NCV forum at KWRF aims to invigorate Cambodia's vibrant creative industry and showcase the Kingdom's emerging artistic minds to the world. The KWRF takes place in over 36 venues around Kampot, Kep and Phnom Penh, featuring a mixture of ticketed and free events, all upholding the festival's objectives.
Literacy & Education
Culture & History
Global Issues
Community
This year's festival will take place in Kampot, Cambodia, from 3-6 November with a final closing event in Phnom Penh on Monday 7 at The Exchange. The
KWRF Kampot Food Festival
is new idea to show off our "Kampot, Kep food bowl" – Kampot is a coastal provincial region in Cambodia long-renowned for local produce not least Kampot's famous pepper. It's a farm-to-table experience for foodie travellers to explore the delicious, organically grown produce as well as the diverse flavors of the Cambodian kitchen. By creating a food festival within KWRF, we hope to inform people about Cambodian food, cultural identity, history and traditions; to raise awareness of Cambodian cuisine; to create meaningful discussions about health and sustainability; and to support local artisans, farmers, businesses and community groups. KWRF is an official sister festival of
Ubud Writers & Readers Festival
, the most recent edition took place in Bali at the end of October 2016.