Bilbao mayor honoured for city's cultural transformation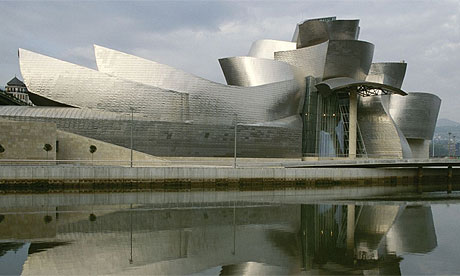 The mayor of Bilbao, Iñaki Azkuna, has been named
World Mayor of the Year
2012, in recognition of the city's transformation into a worldwide arts hub. Elected in 1999, Azkuna is credited with using the iconic
Guggenheim Museum
to turn declining industrial Bilbao into a cultural centre.
Tann vom Hove, senior fellow at thinktank and campaigning organisation
The City Mayors Foundation (CMF)
which awards the prize, said two events had sparked off Bilbao's transformation: the opening of the Guggenheim Museum in 1997 and the election of Iñaki Azkuna as mayor two years later.
Annual visitor numbers to the city increased from 100,000 before the museum opened to 700,000 in 2011. Although many initially thought it represented a waste of resources, the Guggenheim is thought to have contributed more than €2.4bn (£2bn) to the Basque province's GDP since October 1997.
The CMF has awarded the World Mayor Prize every two years since 2004. It is given to a mayor who has made outstanding contributions to their community and has developed a vision for urban living and working that is relevant to towns and cities across the world.
Runners-up for 2012 were Lisa Scaffidi, Lord Mayor of Perth, Australia and Joko Widodo, who was mayor of Surakarta in Indonesia, from 2005 to 2012, and who was elected as governor of Jakarta in September 2012.
Read full article
on
The Guardian
Image: The Guggenheim Museum – a catalyst for regeneration in Bilbao. Photo: Getty