from - to
09 Mar 2020 - 13 Mar 2020
Athens Burns Bright Cultural Ecology Tour 2020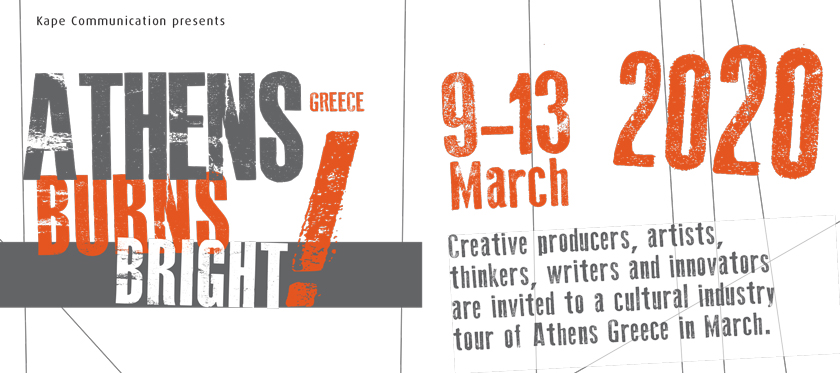 Join the 2nd Athens Burns Bright Cultural Ecology Tour, an international professional development opportunity taking place in Athens, Greece. Athens Burns Bright 19 was so successful, the organisers are inviting creative and performance producers, artists, curators, community and cultural activists, thinkers, policy specialists, writers, small business and start-up specialists to participate in another five-day creative and cultural research tour of Athens 9-13 March 2020.
In 2019, the inaugural Athens Burns Bright Cultural Ecology tour of Athens took place. Participants from Australia, US, France, and Singapore met and talked with Athenian artists, curators, producers and heads of leading cultural institutions, farm to table food specialists, new café owners, and social enterprise developers. They were immersed in all aspects of a re-emergent; post Financial Crisis, Athens' cultural ecology. There are exciting and creative developments in this ancient and regenerating city.
This is a unique opportunity for professional development as we chart the rise of new social and creative enterprises that cross over arts, food, politics, economics and life. It is also an historic illumination as participants live and learn from a city that sparked Western Civilization and is still a crossroads of East and West.
With us you can immerse yourself in Athens' creative ecology as the city emerges out of the ten-year financial crisis. There are many green shoots in the cultural ecology of Athens. This is an historic moment to be present in this creative revolution.
There is a rise of new creative and performance narratives and their impact on the city as a renewing and critical force. Equally we also look at the demographic, social, political and economic developments in a post-crisis scenario. Ultimately we love Athens and want to share the experience with you.
Athens is ancient, modern, creative, exhilarating, intense, political and hedonistic. Artists, activists, institutions, communities, entrepreneurs and restaurateurs from within Greece, and across the world are now being pulled into Athens. We want you to meet as many of them as we can engage in five days. Also we want to facilitate the exploration of future collaborative programs.
Over five days we will look at contemporary programs such as; Mind the Fact Festival, and explore alternative music venues like the collective at Embros Theater – model of self-management art house, located in an abandoned former historical place, now open for performance, music, live art and contemporary dance. We will also meet key figures and venues in institutions such as, the National Theatre of Greece, the Benaki Museum and the new major cultural centres; Onassis Cultural Centre 'Stegi' and The Stavros Niarchos Foundation Cultural Centre. The tour includes a tour of Athens' outstanding street art and a curated visit to the wonderful New Acropolis Museum, the ancient theatre Odeon of Herodes Atticus and other ancient institutions.
We will learn from and enjoy the development of new creative and culinary culture, live performance, intense discussion, and visit spaces that make it Athens of the most dynamic cities in the world. This is a study in contrasts – a narrative encompassing resilience, eternal history, globalisation, socioeconomic change, gentrification, and cultural change. It is a contemporary journey into an ancient city and a centre of civilisation.
Register your interest now