from - to
11 Dec 2019 - 15 Dec 2019
ASEM Cultural Festival 2019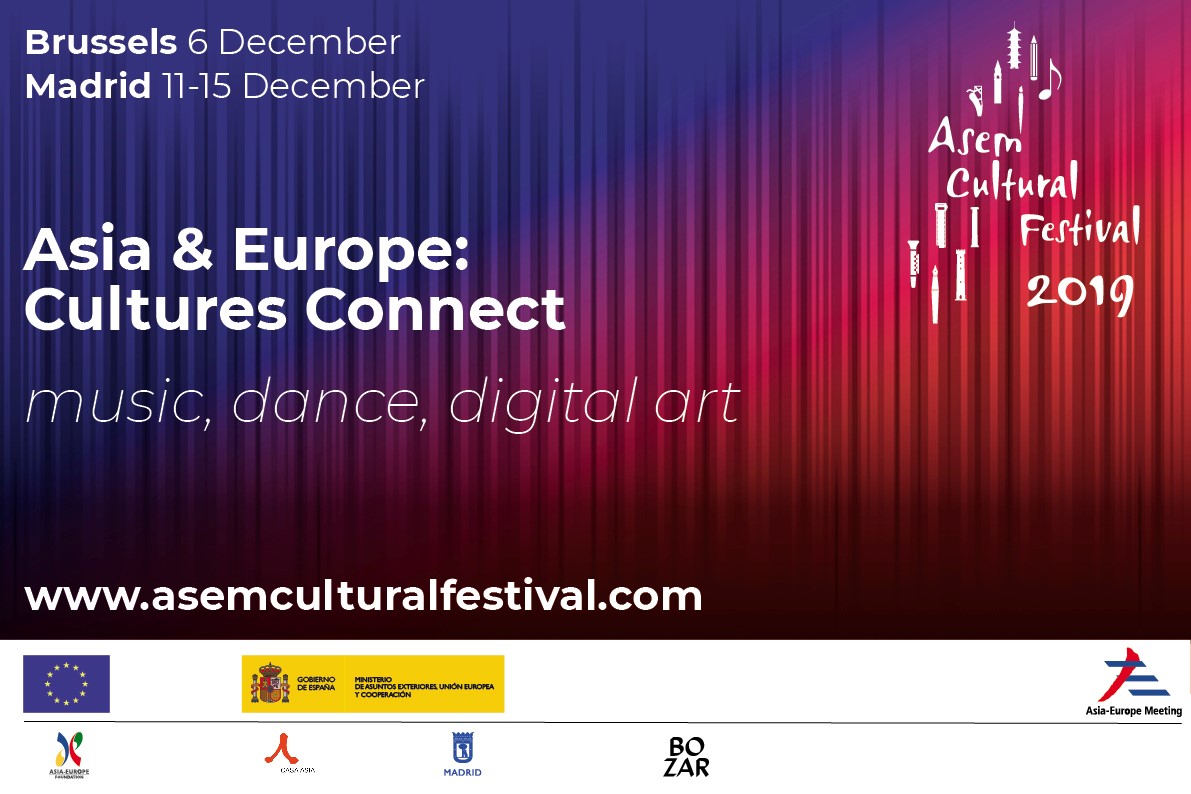 The ASEM Cultural Festival (#ASEMfest) revives a tradition of cultural programming alongside high-level meetings of Asian and European leaders. ASEF, as the only permanent institution of the Asia-Europe Meeting (ASEM), supports the organisation of the festival alongside ASEM Summit Meetings of Heads of State and Governments, as well as ASEM Foreign Ministers.
In December 2019, alongside the 14th ASEM Foreign Ministers' Meeting (ASEMFMM14), the ASEM Cultural Festival titled "Asia and Europe: Cultures Connect" will be held in Madrid, Spain. Over 5 days (11-15 December 2019), the Festival will bring together over 40 artists from more than 10 Asian and European countries to showcase the artistic and cultural diversity from both the regions. 6 music and dance performances, artistic workshops, a virtual reality exhibition and a special exhibit on 'ASEAN Cultural Year 2019', make up the Festival programme, taking place in different venues across the city. A curtain raiser featuring a music concert 'Saiyuki & Friends" will be held on 6 December 2019 in Brussels, Belgium in the lead up to the Festival in Madrid. All events presented in the Festival are free of charge upon registration.
A concert of world music and jazz "Nguyên Lê Saiyuki & Friends" featuring 7 musicians will open the festival, while "Between Tiny Cities រវាងទីក្រុងតូច", a hip-hop performance with dancers from Australia and Cambodia, will be the closing show. And other shows making up the full programme of the Festival are: "Kizuna", a string concert featuring Japanese and Spanish influences; "Rasa y Duende: Lorca, Flamenco y la India", a dialogue between different performing arts from India and the deep roots of Spanish flamenco singing and dancing; "Poong Ryu", a Korean music and dance show with 14 artists; "Rudraksham", a concert by a classical Indian Carnatic and Hindustani music group with percussion and string instruments; a special exhibit about the cultural diversity from the countries of ASEAN (Association of Southeast Asian Nations) and a virtual reality exhibition comprising installations inviting audience interaction with vibrant animations of classic artworks, and workshops led by the artists featured in the Festival, make up the menu for the ASEM Cultural Festival 2019.
For detailed event information and registration, visit the Festival website, www.asemculturalfestival.com.
To stay updated on the various events, follow #ASEMfest on Facebook, Twitter, Instagram and LinkedIn