from - to
28 Mar 2016 - 26 Jun 2016
Art Wuzhen | Utopias / Heterotopias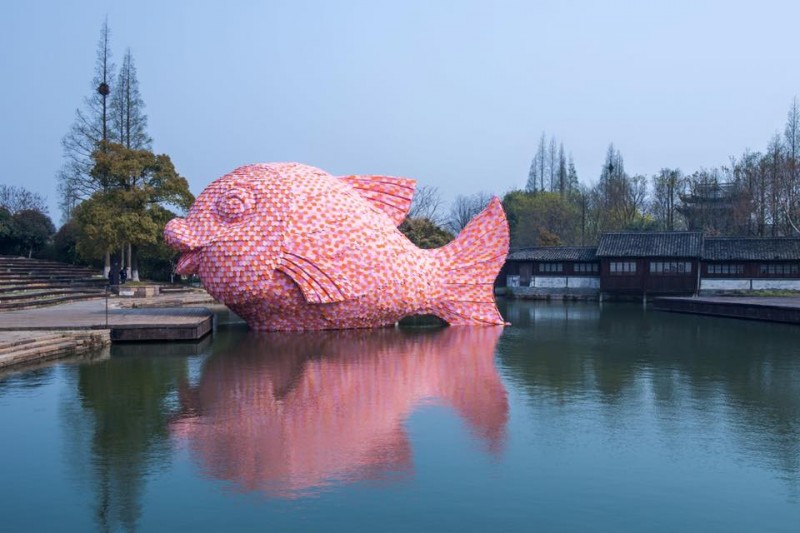 A new contemporary art destination - Art Wuzhen - in a picturesque canal town in China known as the Venice of the East. Wuzhen has embarked on an ambitious cultural development programme. A major international art exhibition Utopias / Heterotopias features works by 40 top global artists, including 12 site-specific works across the town, and runs till June 26.
Once the home of major historical Chinese intellectual figures including writer Mao Dun and artist Mu Xin, the canal town of Wuzhen is now more closely associated with selfie-snapping middle-class Chinese tourists. But a new exhibition featuring works by art superstars such as Marina Abramović and Ai Weiwei is aimed upping the town's caliber as a center for fine art and attracting a more upscale visitor base.
On March 27, Wuzhen unveiled the grand opening of its exhibition "Utopias/Heterotopias," which features a formidable lineup of pieces by 40 top global artists, including 12 works created specifically for the exhibit. The exhibition includes works by Araki Nobuyoshi, Chen Zhiguang, Cheng Dapeng, Choe U-Ram, Richard Deacon, Olafur Eliasson, Xu Bing, Roman Signer, and more, which are distributed through both the town's massive new North Silk Factory exhibition space as well as in outdoor installations in Wuzhen's tourist-oriented West Scenic Zone.
With an opening date that allowed elites to fly in from Art Basel Hong Kong, the exhibit has backing from heavy-hitters in the China art world, including chief curator Feng Boyi and an advisory committee that includes major collector Uli Sigg, Rome's MaXXi director Hou Hanru, and Ullens Center for Contemporary Art Director Philip Tinari.
One of several historic canal towns in southern China that attract huge numbers of tourists, Wuzhen has recently embarked on an ambitious cultural development program. With extensively restored canal-side Ming and Qing dynasty architecture that creates an atmosphere straight out of a classical Chinese painting, the town two hours away from Shanghai has become a massive hit with tourists after its development by the state-owned Cultural Wuzhen Co., Ltd. In addition to the extensive architectural restoration, the company has developed the tourism infrastructure in the town with hotels, restaurants, and shopping. The new exhibition opening comes five months after opening the starchitect-designed Mu Xin Art Museum, and the town also now hosts the Wuzhen Theatre Festival, which sees involvement from top film figures such as Ang Lee.
Read more from JING Daily
Review from Art in China
Review on Artsy.net
Check out the latest news from Art Wuzhen on Facebook
Image: This fish does not actually exist by Florentijn Hofman (NL)