Amour withdrawn from Austrian awards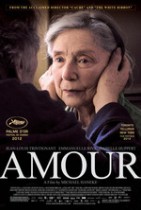 Oscar tipped and Palme D'Or-winning
Amour
by Austrian film maker  Michael Haneke was withdrawn from the Austrian Film Awards, the highest film honor of the country. Haneke took this decision after realizing that Amour is ineligible for the top award categories and decided that it would be better for other Austrian film makers to compete at the event.
Amour is a French-language drama Amour is Austria's official entry for the Academy Awards and is tipped to be one of the front runners for the best-foreign film category. Starring Jean-Louis Trintignant, Emmanuelle Riva, Isabelle Huppert, Alexandre Tharaud, this French language drama is a heart wrenching story about love in old age. It has also been awarded the US Critics top honor by the National Film Critics Society for the best film of 2012. However, the AFA informed that Amour will not be a top contender since it is filmed in French, as well as does not meet up to the other awards criteria including an Austrian certificate of origin, delegate producer and evidence of 'significant Austrian cultural influence'. Haneke has graciously withdrawn Amour from the competing films and has been lauded in Austria and elsewhere for the gesture.
The Guardian
reported that Haneke's producer Veit Heiduschka of Wega Film explained to AFA that, "He (Haneke)  is of the opinion that the Austrian film awards will help other Austrian directors realize future films more than would be the case with him. Without vilifying the Austrian film awards, he refers to the fact that he has already been honoured internationally for this film, and another Austrian film should have the chance to be honoured."