from - to
15 Jun 2013 - 16 Jun 2013
Kuala Lumpur | Building Sustainability in Arts | conference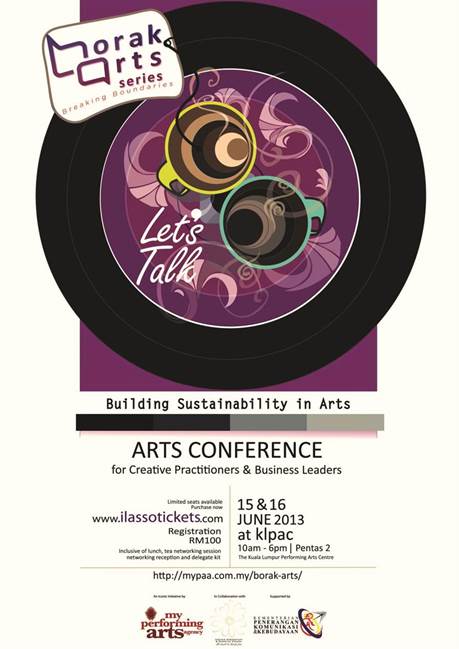 "Building Sustainability in Arts" is an arts conference for creative practitioners and arts leaders, taking place at the Kuala Lumpur Performing Arts Centre. It is organised by My Performing Arts Agency, with national partners, on June 15-16, the first in the Borak Arts Series breaking boundaries. With Malaysia's arts scene at its infancy stage, how do arts organizations and their leaders grow and sustain themselves? Is there an arts eco-system to support the performing arts industry, the public and the private sectors? Borak Arts Series hoping to break boundaries will feature key leaders in the arts and business including artists, curators, critics and other thinkers of national and international standing, coming together to explore these questions. Themed "Building Sustainability in Arts", this inaugural conference is an iconic arts initiative by My Performing Arts Agency (MYPAA), in collaboration with the National Department for Culture & Arts (JKKN) and the Ministry of Information, Communications & Culture Malaysia. It will focus on critical thinking and creative management of the performing arts with the goal of creating a network of collaborative efforts to push the Malaysian performing arts industry to the next level. Apart from the convergence of ideas, knowledge and experience, the Borak Arts Series provides a platform for attendees to learn about new and upcoming projects, local and international, straight from the creators and producers themselves; presenting the gateway for the establishment of new relationships and collaboration between the practitioners, the public and the private sectors. On the other hand, industry players will also share their insights and experiences on past projects, successes and learnings; to share with the participants their secret recipe of what works and what doesn't in the business of the performing arts.
Check programme and speakers  and register now for this important conference
Event Features:
• Keynote addresses and plenary sessions to update on current issues, trends and outlook
• Industry debate with the movers and shakers of the performing arts industry
• Tea Networking Session for personal in-depth discussions with industry stakeholders
• Special sessions on self-discovery and finance aid
• Networking Reception to strengthen professional and personal connections
Who Should Attend
Performing arts practitioners
Art administrators
Art managers from private sector – property development, malls, embassies etc
Creative events managers and festival directors
Arts advocates, activists and NGOs
Venture capitalists, philanthropists
Marketing, corporate communications and PR managers involved in the promotion of arts
Corporate managers of social responsibility
Deans for arts faculties and students
A separate free event
The Performing Arts Town Hall
takes place on June 16th at 6pm: a chance to discuss emerging issues in Malaysia's performing arts.
About MYPAA: 
A member of the International Society of the Performing Arts, MYPAA is a privately owned arts agency with the express goal of supporting the continuing development of artistic & cultural efforts in Malaysia by bridging the gap between the public, private & performing arts sector.