from - to
17 Mar 2013 - 02 Apr 2013
37th HKIFF kicks off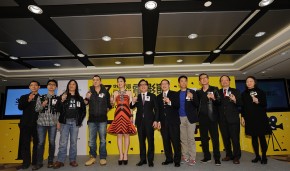 The 37th Hong Kong International Film Festival (HKIFF)
opened with the world premiere of
IP Man - The Final Flight
at Hong Kong Convention and Exhibition Center this week.
Ip Man
is a riveting and untold story of the oft-filmed kung fu master in his sunset years in Hong Kong. The film is co-presented by National Arts Films Production Ltd and Emperor Motion Pictures. Wilfred WONG, SBS, JP, Chairman of the Hong Kong International Film Festival Society (HKIFFS), attended the event with officiating guest Susie HO, JP, Permanent Secretary for Commerce and Economic Development (Communications and Technology). "By showcasing the latest gems and beloved classics of cinema every year, and nurturing and discovering emerging talents, the HKIFF continues to prove it is a major event in the international cultural calendar," said Wong. "We are grateful for the support of our government, sponsors, partners, competition juries, filmmakers, film companies, distributors, archives, the press and many other friends for their unwavering support throughout the years." Set to run till 2nd April 2013, the 37th HKIFF will showcase over 300 titles from 68 countries and regions. A full list of the 37th HKIFF selections is available at
www.hkiff.org.hk
. Tickets can be booked online.
(VIA HKIFF Press Release dated 17th April 2013)