Ties that Bind: An insider's perspective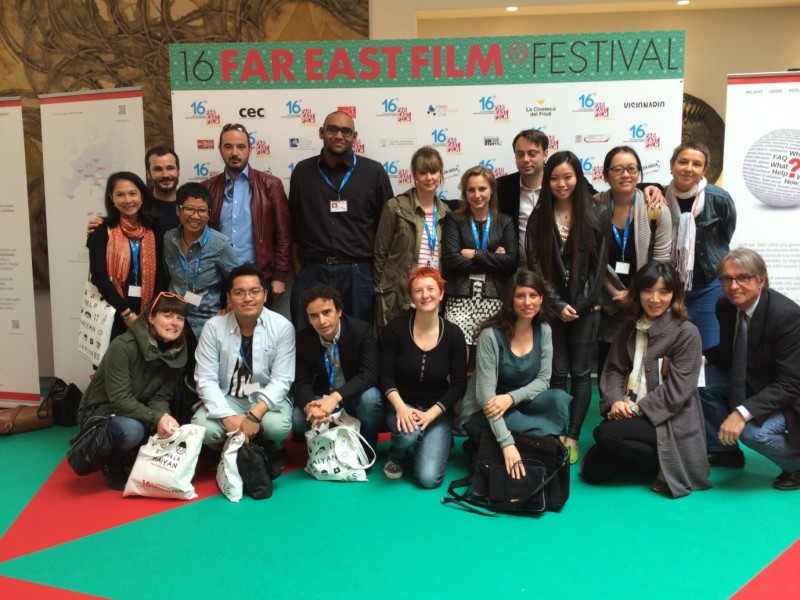 Contributed by Justin Deimen
The 2014 edition of the Film Producers Workshop Ties That Bind took place in Udine, Italy on 29 April to 7 May, along the  16th Far East Film Festival. Justin Deimen from Singapore, was one of the 10 selected producers from Asia and Europe that participated in this year's edition.
[caption id="attachment_42010" align="aligncenter" width="496"]
The team of Ties that Bind and this year's 10 selected producers at Udine's 16th Far East Film Festival[/caption]
Co-organised between the festival,  The Asia-Europe Foundation's (ASEF) Creative Encounters programme, European Audiovisual Entrepreneurs (EAVE), the
Friuli Venezia Giulia Audiovisual Fund
, and the Asian Project Market,
Ties That Bind
brings together a selected group of creative producers from around Asia (5 producers) and Europe (5 producers) to discuss projects that they have in development as well as to facilitate cultural exchanges in the film and television sectors of their respective regions.  The second and final leg of the workshop will take place during the
Busan International Film Festival / Asian Project Market
in October 2014.
Having been one of the Asian participants this year from Singapore, I was in pole position to experience and participate in the programme that has had great success in recent years in bringing together and improving unique projects with co-producing potential from Asia and Europe by placing them under the creative and financing microscope of experts from the 2 continents.  After being involved in film co-productions around the Southeast Asian region, the European leg of the workshop proved to be a wonderful eye-opener and a fantastic networking opportunity.
The Producers
[caption id="attachment_42011" align="aligncenter" width="620"]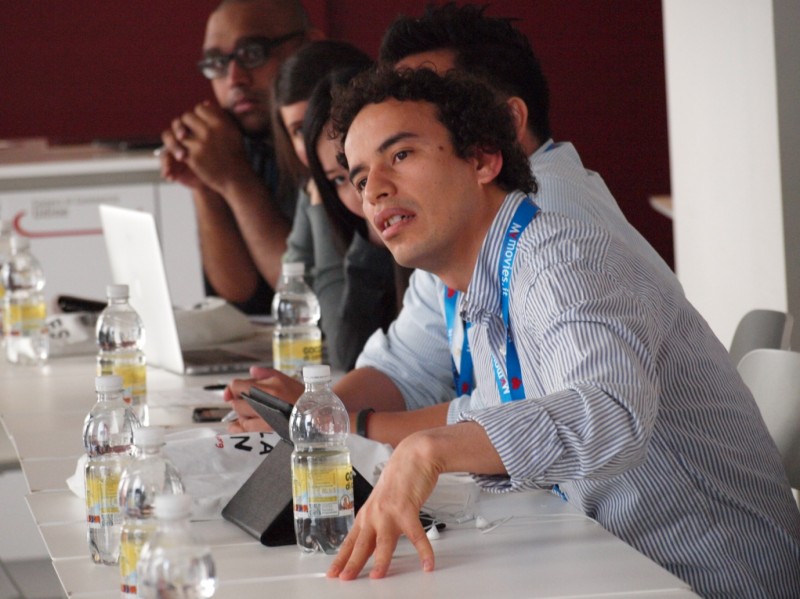 French producer, Karim Aitouna offers his insight and feedback to projects presented by fellow participants during the workshop.[/caption]
The producers chosen for the workshop were from varied backgrounds from Asia, we had producers from the Philippines, Malaysia, Singapore, China, and Japan. From the European contingent, there were representatives from Belgium, France, The Netherlands, and Poland.  Their passion for their projects, professional achievements, personal integrity and character set the bar high for the workshop.
As an executive committee members of the recently launched
Southeast Asian Audio-Visual Association (SAAVA)
, I was excited to learn that 3 out of the 5 Asian projects and 2 of the European projects were to be set in Southeast Asia. This underscored the storytelling potential and producing possibilities within this region as well as the need for strong inter-cultural foundations to be established between international content partners.
Each producer arrived with a feature film project, each at various stages of development and financing. Some were in the advanced stages of financing, while others were perfecting and putting together the right story that they wanted to tell. The notion of truly knowing the story and theme we were putting together became one of the most cohering points of references during the course of the week.
The Workshop and its Lessons
[caption id="attachment_42012" align="aligncenter" width="496"]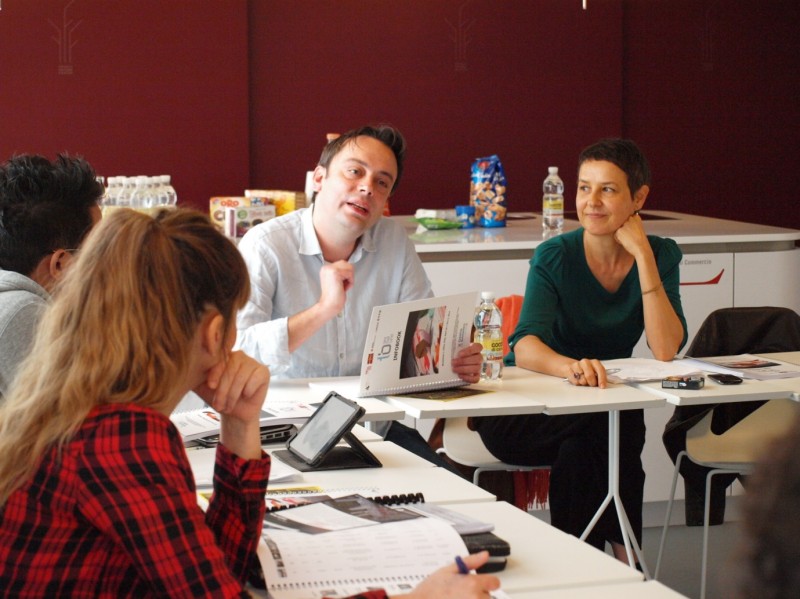 The workshops were guided by Christophe Bruncher (left), the programme's Head of Studies and Group Leader, Élise Jalladeau.[/caption]
The workshop in Udine was comprised of 3 main components – a group discussion, plenaries, and meetings. The group work was facilitated by Elise Jalladeau (EAVE) in a round-table format consisting of intense 3-hour blocks of friendly criticism, creative brainstorming, and exchanging of experiences. As each project was different, every approach had to be unique and deliberate based on the quality of the story and script, the location of the production and the financing elements attached.
With the various experiences of the profiles gathered together, the workshop head Christopher succinctly mentioned early on that we were chosen based on who we are and where we were going as opposed to only the strength of our project. Through the group work, it became apparent that our individual work and knowledge in different regions, enabled us to exchange practical information to get our projects funded. We looked at the various tax incentives and grants available for producers around the world, and how we can best fit these puzzle pieces together to form our financing structure – this proved why the international format of this workshop demonstrated its true value.
In between the group discussions, we had sessions with industry experts based in Europe and Asia who presented the various states of play in the creative industries from festival planning, distribution, and script development. We also had fantastic self-improvement sessions that involved pitching and marketing. The follow-ups to these sessions included one-on-one meetings (coordinated by the Tanika Sajatovic from EAVE) with the experts to see how their respective fields of interest could benefit our individual projects. On the whole, this networking opportunity was beneficial for participants who knew what they wanted and what they could possibly gain from these esteemed guests.
Aside from these coordinated meetings, participants and experts were also grouped together for the various events and dinners around the city. Alessandro Gropplero and his team were instrumental in planning and putting together the well-executed schedules and events throughout any downtime we had. Through these instances of personal contact, a strong networking and learning opportunity allowed genuine and meaningful relationships to strengthen for the long run.
The Perspectives
[caption id="attachment_42013" align="aligncenter" width="496"]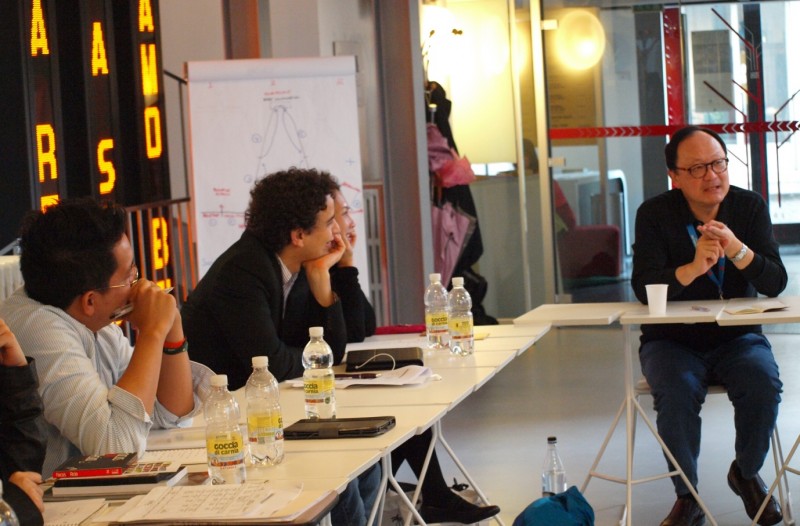 From left: Philippines' Joe Alandy, France's Karim Aitouna, and ASEF representative Sasiwimon Wongjarin, listen to expert Roger Garcia from the Hong Kong – Asia Film Financing Forum.[/caption]
One of the most interesting takeaways from these discussions and meetings was how differently producers on both sides of the Caspian Sea perceive sources of financing. As evidenced by the projects, there is a growing sense that European producers want to set more culturally inventive stories shot in Asia, which would allow it to be more cost-effective as well. However, government and arts funding in the continent aside from Malaysia, Singapore, Japan, and Korea is scarce. Most film investments here deal with equity, and very little else including pre-sales. This presents a bit of a conundrum to our European counterparts where federal, state, and regional funding plays a large part in their endeavours and strategies of content producing.
On the Asian side of the aisle, it became apparent that aside from international development grants like the
World Cinema Fund
and the
Hubert Bals Fund
, there's little experience that Asian producers have in terms of applying for soft money, and it does not constitute a significant portion of their financing plan. It's a cash business here, where producers deal with less paperwork (a common refrain from the Europeans) and more equity. From the
Singaporean
and
Malaysian
standpoint, the tax incentives offered by these neighbouring nations are still arbitrary, nascent and continue to be developed. These film rebates will need more industry consultations to be disseminated fairly and purposefully or else it will become a limited bureaucratic exercise.
All these factors contribute to the dearth of true co-productions between these regions, as most European production expeditions into Asia are led creatively by European producers who are financed with cheaper production costs within Asia. Creative producers in Asia have more to offer than mere access to more cost-effective labour but also the desire and ability to package projects with our stories and private financing together with our European counterparts' experience with their own countries' incentives.
Most of Asia has private money flowing through the creative industries but no real system of checks and balances, or a sophisticated film financing ecosystem. The only real way for Asian producers to have an equal footing in a co-production relationship is if there is more support towards culture and the audio-visual arts either within each country or through inter-governmental associations, just as how EAVE as grown into a vital cultural establishment through the support of the
European Union
and the buy-ins from its member states. This is something creative producers in the Asian region have to work towards constituting, here cultural exchanges like Ties That Bind can help in this regard.
Ties that Bind is one of the project selected through the ASEF's Creative Encounters programme in 2013-14. Creative Encounters is based on an annual open call for proposals and a selection process targeting innovative projects, which gather artists, performers, producers and cultural practitioners from Asia and Europe.
Submissions for the Fourth Edition (2014-2015) are now open until July 15, 2014.
Interviews:
Listen to the following interviews by Eddie Bertozzi, reporter from Fred Chanel One:
Listen to more podcast on Udine Far East Film Festival online  
http://uk.fred.fm/category/podcastcat/feff/
Links:
JUSTIN DEIMEN is a Singapore‐based film and television producer by trade and a film journalist by training. With a varied and applied experience with the art of story and the creative business process, Justin is also one of region's foremost scriptwriters and is one of the co-founders of the Southeast Asian Audio-Visual Association. His most recent feature film project is 3.50, the first Singapore‐Cambodia feature co‐production exploring the moral and societal issues of sex trafficking. He continues to pursue his passion to better the world through his work in the media and has co-established Wikigives.com, a crowdfunding platform for social causes carrying inspirational content.