Visual Storytelling for Climate Change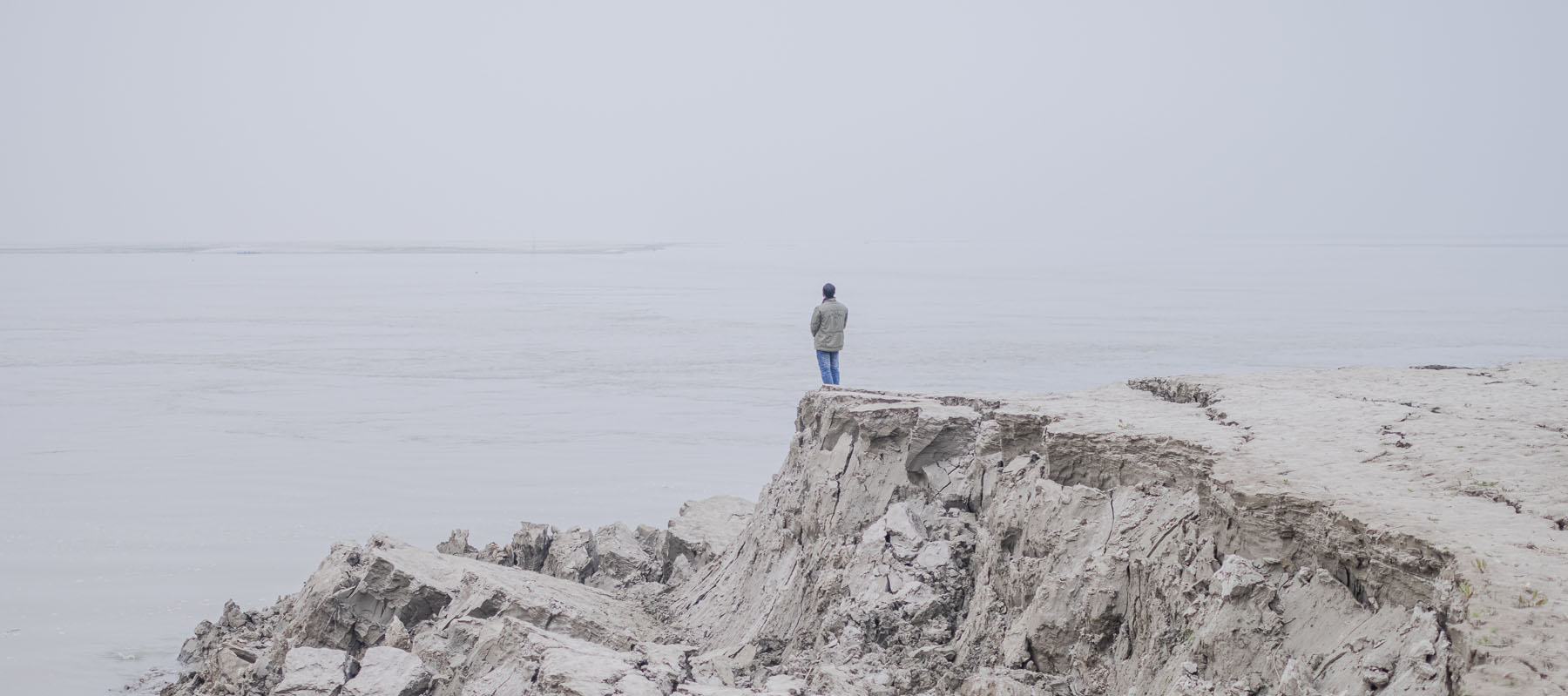 As part of culture360 recent Call for articles, Sharbendu De explores the initiatives taken by South-Asian photographers to deal with climate change through their artistic responses.
The world is sitting on a tinderbox. Global temperatures are steadily on a rise with increased incidences of heat waves. The IPCC Sixth Assessment Report 2021 flagged 'Code Red' stating, "The past five years have been the hottest on record since 1850. Temperatures are likely to reach 1.5°C above pre-industrial levels by 2040 and the rate of sea-level rise has nearly tripled compared with 1901-1971." This translates to an accelerated rate of heat waves, glacial ice-melting etc. leading to flooding, submergence of coastal areas, species extinctions, crop failures and high mortality, to name a few. Put succinctly, prolonged and sustained mayhem.
In situations like these, does art, and photography, in particular, have a role to galvanise citizens of the world, or is its mere function to make archival records for posterity, should there even be one? Artistic responses to climate change have encountered a unique problem — one of disbelief. Amitav Ghosh in The Great Derangement (2016, Penguin) writes with searing insight,
The problem of climate crisis despite being the biggest threat to human existence today is still not accepted as a reality when portrayed through cinema or literature.
Rob Nixon, in Slow Violence and the Environmentalism of the Poor (2013, Harvard University Press) asks,
How can we convert into image and narrative the disasters that are slow moving and long in the making…? How can we turn the long emergencies of slow violence into stories dramatic enough to rouse public sentiment and warrant political intervention…?
Makeda Best, Richard L. Menschel Curator of Photography at the Harvard Art Museum and curator of the recently concluded landmark exhibition 'Devour The Land: War and American Landscape Photography since 1970' (Sept'21-Jan'22) responds over a personal interview,
What is an ecological picture and how can you move beyond those tropes of landscapes, crisis, cause-effect, domination etc?
Her show expanded the purview of climate change bringing industrialization and American militarism into the ambit. "We need non-western narratives," she affirms. South Asian visual storytellers are rising to the occasion, albeit slowly.
Amirtharaj Stephen (b. 1984, Amsterdam) in Koodankulam: In my Backyard (2011-13) records the Koodankulam Nuclear Power Plant protests in Tamil Nadu, a state in Southern India. He grounds the story in people's class struggle eschewing from tritely romanticising an individual hero-figure as the spearheading champion of causes.
1. Set of photographs from "Koodankulam: In my Backyard" (2011-2013) © Amirtharaj Stephen, Atomic Photographers
Chinky Shukla (b. 1985, New Delhi) in When Buddha Stopped Smiling (2015-ongoing) is documenting the human cost of nuclear tests carried out in Pokhran, a township in the north-western province of Rajasthan, India. Both of their gaze, however, remains fixated on the protest as an 'event', with the body becoming the site of protest in Shukla's portraits, unlike the American photographer Mitch Epstein's American Power (2009, Steidl) in which he astutely balances class representation and personal concerns with a rare economy.
2. Pokhran, Northern Rajasthan, India, When Buddha Stopped Smiling, Digital print (2015) © Chinky Shukla
3. Leelaram Gogali (Eyewitness, 1998 Nuclear test), Pokhran, Northern Rajasthan, When Buddha Stopped Smiling, Digital Print (2022) © Chinky Shukla
Arko Datto (b. 1986, Kolkata) uses hyper-saturated night-time photojournalistic approach to extensively document ecological crisis in South Asia. In Shunyo Raja (Kings of a Bereft Land; 2015–2018) and Where Do We Go When the Final Wave Hits conceived as a trilogy, he documents the plight of the the coastal communities living in the sinking Sundarban delta. Pursuing an interpretive documentary approach, Datto rejects being called an activist. 'Art should challenge dominant ways of narrative building and seeing, evoking new sensory impulses,' he comments over an online interview. The sinking islands of Sunderban delta have for the longest fascinated many photographers. Munem Wasif (b. 1983, Dhaka) took a nuanced approach to represent the land and its people in Land of the Undefined Territory (2014-2015) and Seeds Shall Set Us Free II (2017-2019). Sarker Protick (b. 1986, Dhaka) with his visually charged poetic approach in Of Rivers and Lost Lands (2011-ongoing) surveys the river Padma (Ganges) and the waterborne land of Bangladesh. Following a high-key visual style, he entwines the destinies of humans with their landscapes. The images bear a palpable fragility emerging not from catastrophic events, yet are reminders of anthropocentrism devouring the land and water. He says:
My initial motivation was not climate change. But the cultural and economic landscape of Bangladesh is shaped by rivers, and so I wanted to make a book about the river.
4. Set of photographs from the 'Of River and Lost Lands' series (2011-Ongoing) © Sarker Protick
Sonia Mehra Chawla (b. 1977, New Delhi) a multidisciplinary artist, photographer and researcher, focusses her gaze on the invisible microbial life by blending science, technology and art. She says:
I am strongly inclined toward the notion of multispecies justice and multispecies cohabitation within the broader framework of the climate change discourse.
Ravi Agarwal (b. 1958, New Delhi), an interdisciplinary artist, prolific writer, editor, curator and environmental campaigner, approaches the ecological discourse in a more comprehensive manner:
An artist is never isolated from society. My art practice is an expression of human complexity and affective relationships with the world.
In 2022, Agarwal (with Ranjit Hoskote, Curator of Literature) curated a significant show New Natures: A Terrible Beauty is Born at the Geothe-Institut Mumbai, as a proposition to rethink the world as we know it today. They simultaneously organized a three-day conference titled State of Nature: Dialogues bringing many luminaries and artists together offering new cross-disciplinary perspectives.
Speaking on the challenges for artists dealing with the complex ecological discourse, Agarwal comments:
Climate change is framed now as a crisis, so large that it engulfs the ecological discourse overwhelmingly. There is a seeking for immediate solutions. While those are undeniably needed, equally important is to question the historic and pedagogical structures which have led to this condition. Changing that is another type of endeavour- not easy and it is like moving a big mountain. In the art world too, where climate change has become the "flavour of the month," very few artists have the appetite to tackle that scale of the problem.
Speaking of specific strategies, multidisciplinary artist Vibha Galhotra (b. 1978, New Delhi) adopts humor in The Final Feast (2020) in which she references Leonardo da Vinci's The Last Supper to satirically present 'our contemporary times, plagued by social, political, economic, and especially ecological chaos. This staged photo-work allegorically "demonstrates how human greed has taken over the world, leaving it in shreds and pieces, just like the cake with the world map, on the staged table in work". She brings together several of her powerful art-world-friends as actors to represent the powerful elites. "I work with humour, and even dark humour as affective strategies resonating with the present time" she says. Unlike most documentary works that focuses on the 'powerless' Galhotra opted otherwise.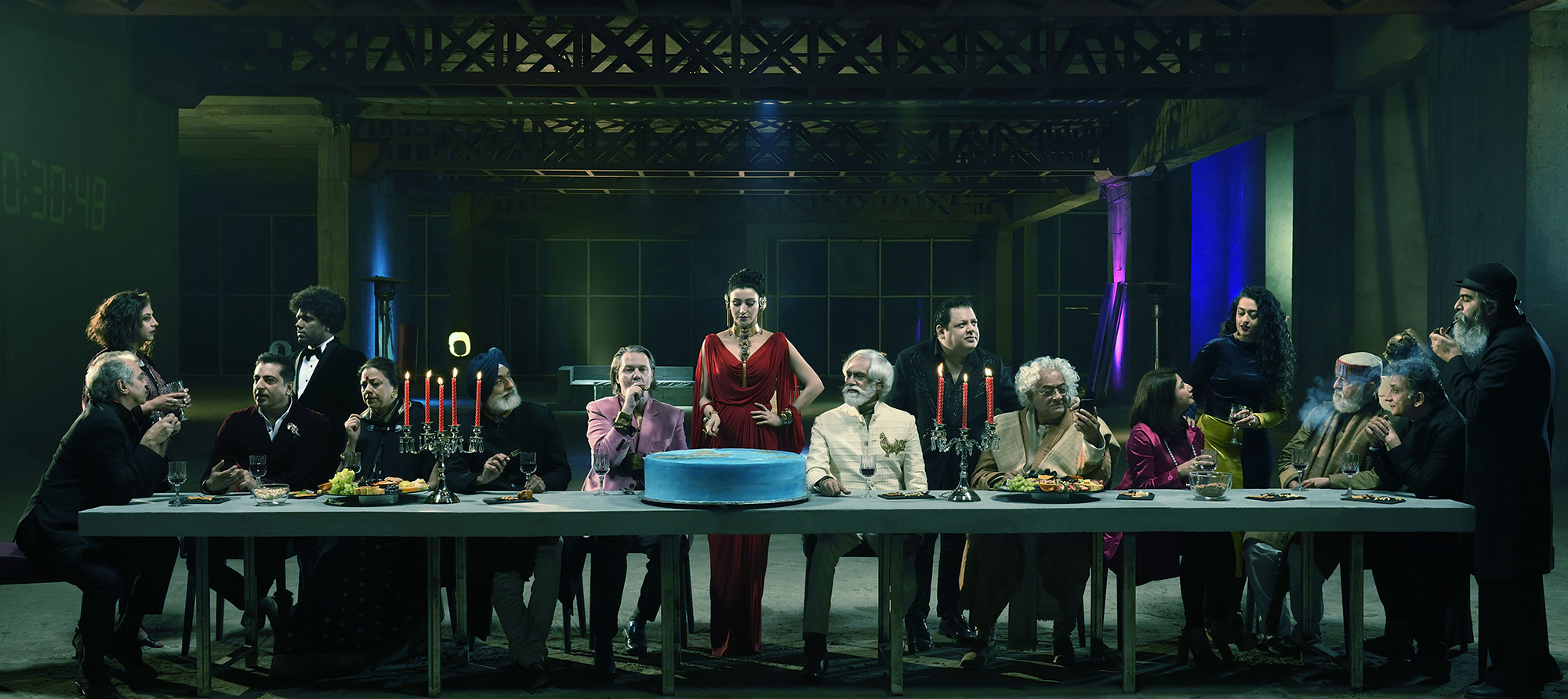 5. The Final Feast (2020) © Vibha Galhotra
Most artists interviewed here lament the dearth of funding, or cultural institutions invested in supporting South Asian visual storytellers to deal with what is arguably the most urgent crisis today. Amplifying their work is another gargantuan task left solely to the wits of these individuals.
The tinderbox has been set on fire. The old ways of storytelling have led to sensationalism and compassion fatigue. As the inimitable Donna Haraway poignantly reminds:
We need other kinds of stories.
It's a clarion call for everyone including artists, but a greater responsibility rests on social, cultural and art institutions. They must urgently recalibrate their mandates and mission to support and amplify the voices of these climate change storytellers.

References
1. IPCC Sixth Assessment Report, 2021 [https://www.ipcc.ch/report/ar6/wg1/]
2. Amitav Ghosh in The Great Derangement (2016, Penguin)
Rob Nixon, Slow Violence and the Environmentalism of the Poor (2013, Harvard University Press)
4. https://harvardartmuseums.org/exhibitions/5877/devour-the-land-war-and-american-landscape-photography-since-1970
5. https://culanth.org/fieldsights/storying-otherwise-a-review-of-donna-haraway-story-telling-for-earthly-survival
Cover image: A photograph from the'Of River and Lost Lands' series (2022-Ongoing) © Sarker Protick
Conflict of interest disclosure: The author alongside being an academic and writer, is also a lens-based artist making visual responses to the climate crisis.
---
About the Author
Sharbendu De (b. 1978) is a contemporary lens-based artist, academic and a writer. He is the 2022 Visiting Artist Fellow at the Lakshmi Mittal South Asia Institute, Harvard University. A recipient of multiple grants from the MurthyNAYAK Foundation, KHOJ, Prince Claus Fund & ASEF, Lucie Foundation and India Foundation for the Arts, De's latest series An Elegy for Ecology (2016-21) speculates human survival in the climate crisis induced future and Imagined Homeland (2013-19) on the indigenous Lisu community's relationship with nature and nonhuman agentive forces. He has an MA in Photojournalism from the University of Westminster (2010), London. He lives in New Delhi, arguably the most polluted city, where he also teaches conceptual photography and visual communications for over a decade.
He can be reached at de.photoedu@gmail.com