Bangladesh | photography competition A Better Tomorrow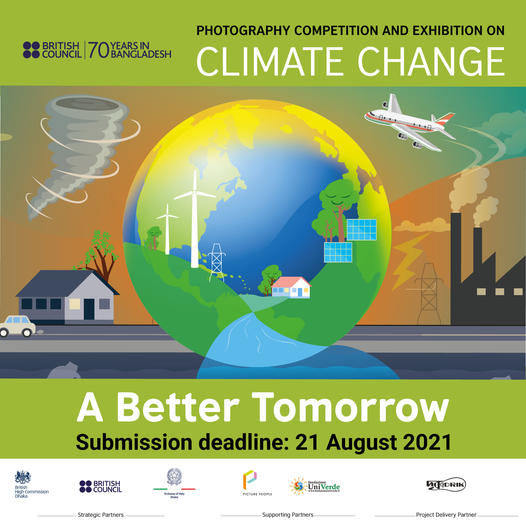 Call for entries for photography competition and exhibition on climate change. The British Council, the British High Commission in Bangladesh and the Italian Embassy in Bangladesh, in cooperation with Drik Picture Library Bangladesh, Picture People UK and UniVerde Italy call for a photography competition for Bangladeshi nationals and plan to host an exhibition. The theme is: A BETTER TOMORROW
The competition is open to any Bangladeshi national, living in Bangladesh aged 18-35 years.
The overall objective of this initiative is to raise awareness of local climate change issues among young people in Bangladesh. This should-
encourage young people (18-35) to better understand and engage with local biodiversity and identify/understand climate change problems and solutions in their localities
develop material showcasing Bangladeshi youth voices and perspectives around climate change in Bangladesh
provide opportunities for the views and key issues as identified by Bangladeshi young people to be heard and listened to among senior stakeholders at both national and international levels.
The plan is to hold the exhibition in Dhaka to coincide with the COP26 Glasgow conference in November 2021. A virtual version is also planned to attain a wider reach. There is a possibility of touring the exhibition in Italy and Glasgow as part of the initiative.
30 selected photographs will be exhibited, which includes the grand prize winner and two winners from each category. A panel of reputed international jury members will make the selection. A webinar on smartphone photography is also planned prior to the submission deadline. Winners will be invited to the launch of the exhibition in Dhaka, subject to Covid-19 restrictions.
The climate change crisis is now widely recognised as one of the greatest existential threats to humanity. Its impact is already tangible across a range of social, economic, political and environmental areas.
AWARDS
Grand prize winner: Tk 1,00,000
Category winners: Tk 50,000 each, 3 nos.
Category runners-up: Tk 20,000 each, 3 nos.
Photographs selected for the exhibition will receive certificates.
Fight for climate justice through photography, enter the competition now!
Submit your entries at https://submissiondrik.com/
Submission deadline: 21 August 2021