Virtual Workings | Learning to Interweave New Curatorial Narratives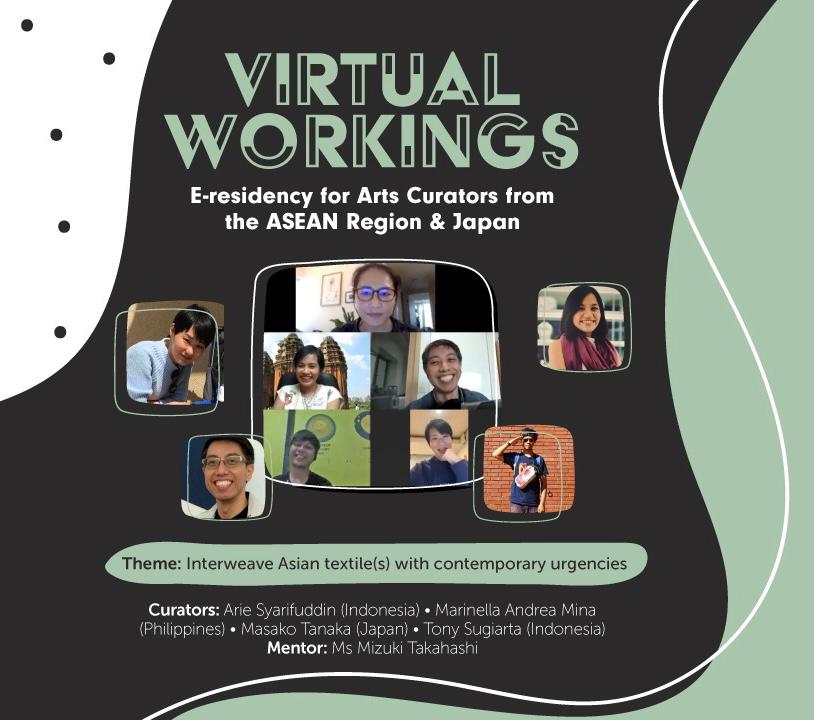 Participants of the online residency Virtual Workings Tony Sugiarta (Indonesia), Masako Tanaka (Japan), Arie Syarifuddin (Indonesia) and Marinella Andrea Mina (Philippines) worked together on the topic of "Interweaving Textiles" under the mentorship of Mizuki Takahashi. The four curators talk about the project's development and working virtually with a mentor in their final article below.
The Virtual Workings e-residency for emerging art curators opened a wonderful learning opportunity for us participants working on the theme of Asian textiles legacy—re-examining the complexity of this heritage and mapping its current trajectories.
Entangled Threads - the Beginning
For our first meeting, our mentor Mizuki Takahashi, Director of the Centre for Heritage Arts & Textile (CHAT) in Hong Kong asked us to introduce ourselves and present our research interests. Our group includes Tenten Mina from the Ayala Museum in the Philippines, Tony Sugiarta of aNERDgallery in Singapore, Arie Syarifuddin of Jatiwangi Art Factory in Indonesia, and Masako Tanaka of Tokyo Metropolitan Teien Art Museum, Japan.
As our group had only met through virtually through the e-residency, we realised that there was a lot that we could learn from each other's curatorial practices and research interests. Tony observed that although he and Arie work with narratives of Indonesian textiles, Tony looked into the tradition and "endangered" practices while Arie's works in Jatiwangi marked the beginning of another story of identity and Indonesian batik. Being both museum-based curators, Tenten was excited about how Masako's work at Teien Art Museum balanced the historicity of their space with contemporary works of art that reinterpret traditional concepts.
As early as that first meeting, we had agreed to work on a virtual exhibition as a final project for the residency but we realised that the wide scope of our topic and diverse specialisations and practices provided both opportunities for cross-cultural learning and challenges in creating a cohesive curatorial output.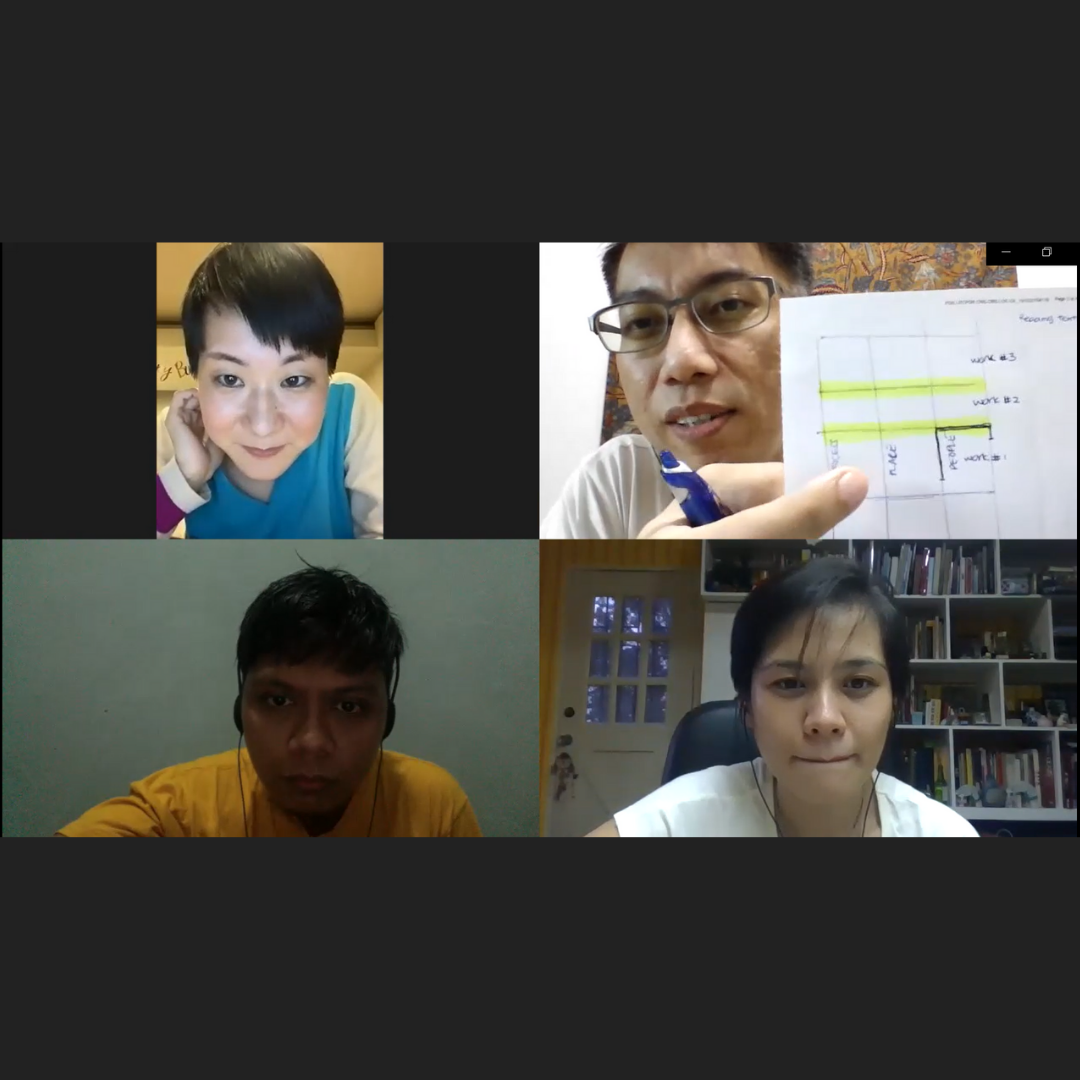 The four curators of Interweaving Textiles during one of the online discussions of the e-residency.
Unraveling Yarns - the Mentoring
In the succeeding weeks, we listened to our mentor Mizuki as well as a guest presentation from Prof Amareswar Galla (who was mentoring the group on "Clearing Histories") to add more perspectives to the narratives we would tell in our exhibition and approaches to designing the presentation.
Mizuki talked about her own experience working with Asian contemporary artists tackling themes of identity, place, heritage, and textiles that were also relevant to our own individual research interests. Arie observed how Mizuki's presentation emphasised how important archival material and activating artefacts through shared learning experiences with the community members and artists made the projects more meaningful. Masako noted that the exhibition programmes at CHAT presented an alternative model of "contemporaneity" as a museological practice and an art-historical method.
After listening to Mizuki, we sat down to agree on the direction we wanted to take for our own exhibition and refine our exhibition concept and narratives. For this reason, it was very important that we had the opportunity to listen to Amar and ask questions to the mentor of the "First Voices" discussion. Amar's years of experience and research on textiles and interweaving local perspectives in intangible cultural heritage preservation brought home some very important questions for our own group to consider:
How do we curate the invisible? What are the ethics involved in the narratives we formulate? Whose stories and perspectives are we documenting, sharing, and in a sense, preserving?
Setting up the Loom - the Exploration
These were all very difficult questions we had to address and consider as we looked at our own practices and in the exhibition narrative we wanted to create. We regrouped and drafted our exhibition proposal. We really had our work cut out for us – reconsidering the words, written and visual language we used in the exhibition and even the "space" we selected for the project.
An important point Mizuki raised was that co-curation was also a process of unlearning and re-learning through our discussions with our colleagues and that emphasized the importance of cross-cultural engagement programmes such as this e-residency. Our curatorial discussions were long, exciting, exhausting, and even, at times, hilarious. As Tony shared, the breadth of discussions beyond culture and heritage as well as learning different perspectives of practices by independent and institutional curators, and the dynamics between views of contemporary art and what is labelled as craft or ethnographic materials, were truly invaluable.
Reading Textiles, Weaving New Narratives
We still do not know if we have answers to all the questions raised during this e-residency but we recently launched the virtual exhibition "Reading Textiles, Weaving New Narratives" on Instagram as the culmination of our participation in the Virtual Workings e-residency.
Unlike traditional exhibitions, we envision this project as a continuing programme that slowly unfurls, week to week, as we present different works related to the legacy of Asian textiles. This will presumably be an on-going and a continuously available exhibition on a public platform. In this "online laboratory", we hope to engage the public, not only with stories we are presenting, but also to encourage them to share their own narratives related to the heritage of Asian textiles.
To celebrate the launch of a new online exhibition Reading Textiles, Weaving New Narratives, CHAT - Center for Heritage and Textiles is organising a webinar on Weaving New Narratives in Textile Exhibition! ​In this webinar, curators and mentor will gather for a join discussion to map and shape the trajectories of textile exhibitions in the future.

​Date: 24 March, 2021 (Wednesday)
Time: 7:00-8:00pm
Venue: Webinar
RSVP: https://bit.ly/2OoqD4p