'Tango With Me' to be released in UK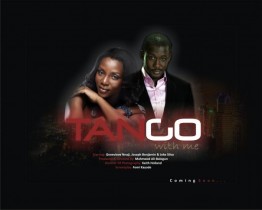 In what will be one of the biggest releases for a black independent film,
Tango With Me
will open in major cinemas across the United Kingdom and Ireland this August. As reported by various cinema magazines of Europe, the film is being distributed by a new UK based company Talking Drum Entertainment, which specialized in black film. Tango With Me is their first major release, starring Genevieve Nnaji and Joseph Benjamin as a young couple facing a complex concoction of moral issues within their marriage.
Tango With Me is a 2010 film, directed and produced by Mahmood Ali-Balogun under his Brickwall Communications production company, one of the prominent houses of Nigerian Cinema, popularly known as Nollywood. Nollywood is one of the largest film industries in the world, making more films each year than Hollywood.
You can read more on this story
here!
 and click to Watch the trailer of
Tango With Me
.
Source - cineuropa.org