04 Feb 2015 - 06 Feb 2015
UNWTO-UNESCO World Conference on Tourism and Culture | Cambodia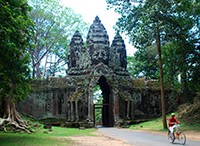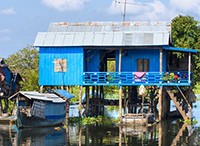 The
First World Conference on Tourism and Culture
will bring together, for the first time, Ministers of Tourism and Ministers of Culture with the objective of identifying key opportunities and challenges for a stronger cooperation between these fields
. The event is jointly organised by the United Nations Educational, Scientific and Cultural Organization (UNESCO) and the World Tourism Organization (UNWTO) and hosted by the Government of Cambodia.
It will take place in Siem Reap, Cambodia, on 4-6 February 2015.
Gathering tourism and culture stakeholders from all world regions in Siem Reap, Cambodia, the Conference will address a wide range of topics, including
governance models, the promotion, protection and safeguarding of culture, innovation, the role of creative industries and urban regeneration as a vehicle for sustainable development in destinations worldwide
. The first World Conference on Tourism and Culture is
aimed at all tourism and culture stakeholders and representatives from related sectors
: Ministries of Tourism and Ministries of Culture, national tourism organisations, destination management organisations, cultural and heritage managers, tourism and culture associations, private sector, culture and conservation experts and practitioners, NGOs and media. The event is structured in
two main blocks
:
A ministerial dialogue, addressing the policy and governance framework necessary to foster a new collaboration model between tourism and culture to support responsible, culturally-aware, inclusive and sustainable tourism that contribute to the socio-economic development of host communities, promote cross-cultural exchanges and generate resources for the safeguarding of tangible and intangible heritage.
Four technical sessions, respectively focusing on 'Promoting and safeguarding culture'; 'Living cultures and creative industries'; 'Linking people and fostering development through cultural routes'; and 'Cultural tourism and urban regeneration'.
With regard to the Conference,
UNWTO Secretary-General, Taleb Rifai
, has said that "This milestone event will provide a unique opportunity for tourism and culture stakeholders from all regions to discuss how to further harness the power of tourism and culture to alleviate poverty, create jobs, protect heritage and promote international understanding, contributing to the post-2015 development agenda". Meanwhile,
Irina Bokova, UNESCO Director-General
, has stated that "Culture shapes our identity and is a means to foster respect and tolerance among people. It is also a way to create millions of jobs and improve people's lives, a path to strengthen mutual understanding. Safeguarding cultural heritage must move forward with sustainable tourism, which is the core message of this Conference. This vision guides our efforts to promote culture as a driver and as an enabler of sustainable development, and is especially important at this time of change, when countries are shaping a new global sustainable development agenda to follow 2015." A
preliminary programme
is available on the conference's website, which also includes a
registration form
, practical information for participants and useful resources on tourism and culture. For
additional information
, visit
http://tourismandculture.cvent.com/events/world-conference-on-tourism-and-culture/event-summary-31e858760d0a4a5287d626b2b638cc8e.aspx
Pictures
: Siem Reap and Tonle Sap Lake, Cambodia.