National Textile Museum, Malaysia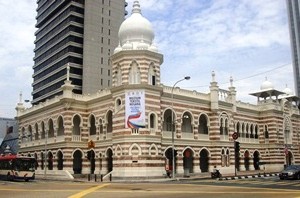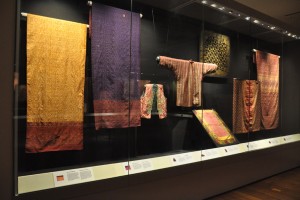 The National Textile Museum, Kuala Lumpur, Malaysia, is housed in an attractive building of Mughal-Islamic style architecture. It was built alongside the Sultan Abdul Samad building and was completed in 1896.
The architect, AC Norman designed this building to house the headquarters of the Federated Malay States Railway. In 1917, the building was given to the Selangor state government and became Selangor Public Works Department. (PWD or JKR). The façade was given a facelift to harmonize with the Islamic style of the adjacent government buildings. The museum is a 2 1/2 storied building with an area of 3259m2 and a floor area of 3145.3 m2, was gazetted on 13 October 1983 as a heritage building under the Government Gazette P.U. (A) 423, Ancient Monuments and Historical Sites (No. 3), Antiquities Act 1976. Under the 9th Malaysia Plan (2006-2010), the Ministry of Information, Communications and Culture through the Department of Museums Malaysia managed the implementation of the project 'Proposal for Conservation, Interior Design and Display for the National Textile Museum Kuala Lumpur' beginning August 2007 until its completion in Jun 2009. The museum was opened to the public on 9 January 2010.
The National Textile Museum explores the rich diversity of the people of Malaysia. The museum traces the development and trend of textiles that have characterized and shaped the life-style of the people of Malaysia as early as the prehistoric era right up to the modern times.
Visitors can enjoy walking through the four galleries:
1.
Pohon Budi Gallery i
2.
Pelangi Gallery
3.
Teluk Berantai Gallery
4.
Ratna Sari Gallery. These galleries showcase the process and technology of textiles, an exquisite collection of textiles, accessories and costumes of Malaysia.
Collection size:
486
Collection:
Textiles,accessories, weaving tools