Museo ng Kasaysayang Pampulitika ng Pilipinas (Museum of Philippines Political History)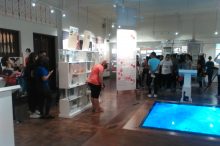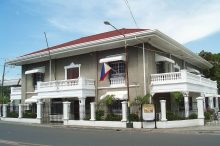 Formerly located at the ground floor of the National Historical Commission of the Philippines (NHCP) in T. M. Kalaw Street, Manila, the
Museo ng Kasaysayang Pampulitika ng Pilipinas (Museum of Philippine Political History) was inaugurated in 1995 and re-conceptualized two years later
with the theme "The Filipino Struggle for Freedom." The Museum thus
traces the evolution of the Filipino nation-state and the emergence of its system of government and democratic traditions
amid the backdrop of long struggles for independence. Miniature dioramas, theatrical backdrops, interactive terminals, and original artifacts recreate these periods, from the earliest communities to the Spanish and American colonial periods, through the Second World War until the present. Major events and figures in the country's political history are highlighted in the process. The museum will now stand in a new home, the Casa Real in Malolos, Bulacan, whose old exhibit focused on the women of Malolos. With the opening of the Alberta Uitangcoy House as the Museo ng Kababaihan in Sto. Nino, Malolos in 2012, however, and the subsequent removal of artifacts owned by the Women of Malolos Foundation, Inc., the NHCP decided to close the remaining exhibits and transfer the Museum of Philippine Political History to Malolos, which was, after all, the seat of the first Philippine republican government.
The Casa Real is a reproduction of the original structure built in 1580
. Known by different names for different functions throughout its 434-year history (Ayuntamiento, Casa Tribunal del Pueblo, Casa Presidencia Municipal, Presidencia Municipal, Municipal Hall, Pamahalaang Bayan ng Malolos), the Casa Real also functioned as the seat of the Royal Treasury, National Printing Press, a hospital, a school, and was even used by the provincial branches of a telecommunications company, a bank, and the post office. The Casa Real was declared a National Shrine in 1965 (Executive Order No. 173). This became the occasion for the reconstruction of the structure following its original design. The then National Historical Institute took over the administration and maintenance of the shrine in August 1986 and has administered it since. The new, modernized Museo ng Kasaysayang Pampulitika ng Pilipinas thus stands on a site steeped in the country's political history.
Permanent collections
: bladed weapons; framed photographs; Manunggul jar; campaign paraphernalia; Japanese Government Document of Surrender; Mickey Mouse money; stamps - Japanese occupation; Katana; interactive exhibits like augmented reality, West Philippine Sea, Charter Change, Huk Songs, Martial Law, Moro voices; Galleon reproduction; historical videos.
View all Asia-Europe Museum Network (ASEMUS) members in the Philippines