Creative Partnerships with other sectors | discussion paper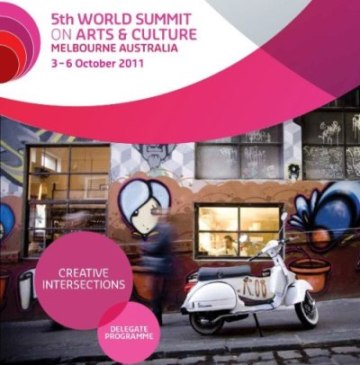 IFACCA
(International Federation of Arts Councils & Culture Agencies) presents its discussion paper for the 5th
World Summit
on Arts & Culture, '
Creative Partnerships: Intersections between the arts, culture and other sectors
'  and invites feedback.
Open call
to all interested parties to contribute to the final report -
deadline 11 November 2011
This discussion paper represents one of the first attempts to research and analyse
creative intersections
, their forms and structures and the policies that influence them. The objective of the research project, conducted by IFACCA's Research Manager, Annamari Laaksonen, was to look at the ways that artists are working in diverse settings (from communities through to the commercial sector) and the nature of partnerships ('intersections') that exist between the arts and other sectors. It also looked at the ways that governments at all levels (local, national, international) initiate, support or influence such relationships through policies or programmes.
"There is no sector, in my opinion, that will not benefit from an association with the arts"
- Anmol Vellani
The intention of the discussion paper is provide a solid base for the discussions that will take place at the 5th World Summit on Arts and Culture to be held in Melbourne, Australia, on 3-6 October 2011. It is presented as a work-in-progress to which will be added the rich outcomes of the keynotes, panel and roundtable discussions that will take place at the Summit.
IFACCA invites
all speakers and participants of the Summit and others interested in this subject to contribute to the final version of this report, to be published by the end of 2011, by sending information on inspiring practices, research materials or evaluations to
info@ifacca.org
  or by answering the questionnaires provided at the end of the report. The deadline for this feedback is
Friday 11 November 2011.
---