from - to
03 Oct 2011 - 06 Oct 2011
Video: 5th World Arts Summit invite, Australia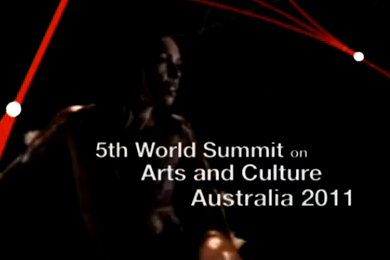 Online registration for the 5th World Summit on Arts and Culture, Melbourne, is now available at artsummit.org.
http://www.youtube.com/watch?v=Kq-VZ4QVXj4 Jointly hosted by the
Australia Council for the Arts
and
The International Federation of Arts Councils and Culture Agencies
(IFACCA), in partnership with
Arts Victoria
, the 5th World Summit will explore the theme
Creative Intersections
.
The Summit will bring together government and cultural leaders from over 80 countries to explore how artists can give voice to diverse communities and concerns through collaborations with experts in health and well-being, the environment, education, business, new technologies, cultural identity and more.
The event will be held October 3-6 2011, Melbourne, Australia Check out the keynote speakers for the Arts Summit
-------------------------------------------------------------------------------- This video came via
Twitter user khaoid
(Thanks!) --------------------------------------------------------------------------------

Related content:
Bursary: World Arts Summit Australia IFACCA report: Support for international arts activity